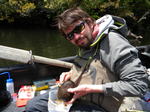 BLANCHET Simon
Station d'Ecologie Théorique et Expérimentale, CNRS, Moulis, France
Biodiversity, Biological invasions, Community ecology, Competition, Conservation biology, Ecosystem functioning, Evolutionary ecology, Experimental ecology, Host-parasite interactions, Human impact, Macroecology, Meta-analyses, Molecular ecology, Parasitology, Phenotypic plasticity, Spatial ecology, Metacommunities & Metapopulations, Statistical ecology
recommender
Recommendations:
2
Reviews:
0
Areas of expertise
I have done a PhD in Biology on competitive interactions between native and exotic fish species. I'm now investigating ecological and evolutionary dynamics in freshwater habitats by focusing on the causes and consequences of intraspecific diversity and on host-parasite interactions. I generally combined various tools including experimental ecology, molecular ecology, meta-analyses, empirical surveys and causal modeling. I'm broadly interested on the processes underlying biodiversity, and how biodiversity is interacting with its environment. Many of my works are related to applied and societal issues such as habitat fragmentation and the management of exploited populations.
Recommendations: 2
11 Mar 2021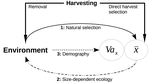 Size-dependent eco-evolutionary feedbacks in fisheries
"Hidden" natural selection and the evolution of body size in harvested stocks
Recommended by Simon Blanchet based on reviews by

Jean-François Arnoldi

and 1 anonymous reviewer
Humans are exploiting biological resources since thousands of years. Exploitation of biological resources has become particularly intense since the beginning of the 20th century and the steep increase in the worldwide human population size. Marine and freshwater fishes are not exception to that rule, and they have been (and continue to be) strongly harvested as a source of proteins for humans. For some species, fishery has been so intense that natural stocks have virtually collapsed in only a few decades. The worst example begin that of the Northwest Atlantic cod that has declined by more than 95% of its historical biomasses in only 20-30 years of intensive exploitation (Frank et al. 2005). These rapid and steep changes in biomasses have huge impacts on the entire ecosystems since species targeted by fisheries are often at the top of trophic chains (Frank et al. 2005).
Beyond demographic impacts, fisheries also have evolutionary impacts on populations, which can also indirectly alter ecosystems (Uusi-Heikkilä et al. 2015; Palkovacs et al. 2018). Fishermen generally focus on the largest specimens, and hence exert a strong selective pressure against these largest fish (which is called "harvest selection"). There is now ample evidence that harvest selection can lead to rapid evolutionary changes in natural populations toward small individuals (Kuparinen & Festa-Bianchet 2017). These evolutionary changes are of course undesirable from a human perspective, and have attracted many scientific questions. Nonetheless, the consequence of harvest selection is not always observable in natural populations, and there are cases in which no phenotypic change (or on the contrary an increase in mean body size) has been observed after intense harvest pressures. In a conceptual Essay, Edeline and Loeuille (Edeline & Loeuille 2020) propose novel ideas to explain why the evolutionary consequences of harvest selection can be so diverse, and how a cross talk between ecological and evolutionary dynamics can explain patterns observed in natural stocks.
The general and novel concept proposed by Edeline and Loeuille is actually as old as Darwin's book; The Origin of Species (Darwin 1859). It is based on the simple idea that natural selection acting on harvested populations can actually be strong, and counter-balance (or on the contrary reinforce) the evolutionary consequence of harvest selection. Although simple, the idea that natural and harvest selection are jointly shaping contemporary evolution of exploited populations lead to various and sometimes complex scenarios that can (i) explain unresolved empirical patterns and (ii) refine predictions regarding the long-term viability of exploited populations.
The Edeline and Loeuille's crafty inspiration is that natural selection acting on exploited populations is itself an indirect consequence of harvest (Edeline & Loeuille 2020). They suggest that, by modifying the size structure of populations (a key parameter for ecological interactions), harvest indirectly alters interactions between populations and their biotic environment through competition and predation, which changes the ecological theatre and hence the selective pressures acting back to populations. They named this process "size-dependent eco-evolutionary feedback loops" and develop several scenarios in which these feedback loops ultimately deviate the evolutionary outcome of harvest selection from expectation. The scenarios they explore are based on strong theoretical knowledge, and range from simple ones in which a single species (the harvest species) is evolving to more complex (and realistic) ones in which multiple (e.g. the harvest species and its prey) species are co-evolving.
I will not come into the details of each scenario here, and I will let the readers (re-)discovering the complex beauty of biological life and natural selection. Nonetheless, I will emphasize the importance of considering these eco-evolutionary processes altogether to fully grasp the response of exploited populations. Edeline and Loeuille convincingly demonstrate that reduced body size due to harvest selection is obviously not the only response of exploited fish populations when natural selection is jointly considered (Edeline & Loeuille 2020). On the contrary, they show that –under some realistic ecological circumstances relaxing exploitative competition due to reduced population densities- natural selection can act antagonistically, and hence favour stable body size in exploited populations. Although this seems further desirable from a human perspective than a downsizing of exploited populations, it is actually mere window dressing as Edeline and Loeuille further showed that this response is accompanied by an erosion of the evolvability –and hence a lowest probability of long-term persistence- of these exploited populations.
Humans, by exploiting biological resources, are breaking the relative equilibrium of complex entities, and the response of populations to this disturbance is itself often complex and heterogeneous. In this Essay, Edeline and Loeuille provide –under simple terms- the theoretical and conceptual bases required to improve predictions regarding the evolutionary responses of natural populations to exploitation by humans (Edeline & Loeuille 2020). An important next step will be to generate data and methods allowing confronting the empirical reality to these novel concepts (e.g. (Monk et al. 2021), so as to identify the most likely evolutionary scenarios sustaining biological responses of exploited populations, and hence to set the best management plans for the long-term sustainability of these populations.
References
Darwin, C. (1859). On the Origin of Species by Means of Natural Selection. John Murray, London.
Edeline, E. & Loeuille, N. (2021) Size-dependent eco-evolutionary feedbacks in fisheries. bioRxiv, 2020.04.03.022905, ver. 4 peer-reviewed and recommended by PCI Ecology. doi: https://doi.org/10.1101/2020.04.03.022905
Frank, K.T., Petrie, B., Choi, J. S. & Leggett, W.C. (2005). Trophic Cascades in a Formerly Cod-Dominated Ecosystem. Science, 308, 1621–1623. doi: https://doi.org/10.1126/science.1113075
Kuparinen, A. & Festa-Bianchet, M. (2017). Harvest-induced evolution: insights from aquatic and terrestrial systems. Philos. Trans. R. Soc. B Biol. Sci., 372, 20160036. doi: https://doi.org/10.1098/rstb.2016.0036
Monk, C.T., Bekkevold, D., Klefoth, T., Pagel, T., Palmer, M. & Arlinghaus, R. (2021). The battle between harvest and natural selection creates small and shy fish. Proc. Natl. Acad. Sci., 118, e2009451118. doi: https://doi.org/10.1073/pnas.2009451118
Palkovacs, E.P., Moritsch, M.M., Contolini, G.M. & Pelletier, F. (2018). Ecology of harvest-driven trait changes and implications for ecosystem management. Front. Ecol. Environ., 16, 20–28. doi: https://doi.org/10.1002/fee.1743
Uusi-Heikkilä, S., Whiteley, A.R., Kuparinen, A., Matsumura, S., Venturelli, P.A., Wolter, C., et al. (2015). The evolutionary legacy of size-selective harvesting extends from genes to populations. Evol. Appl., 8, 597–620. doi: https://doi.org/10.1111/eva.12268
20 Feb 2019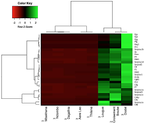 Differential immune gene expression associated with contemporary range expansion of two invasive rodents in Senegal
Are all the roads leading to Rome?
Recommended by Simon Blanchet based on reviews by

Nadia Aubin-Horth

and 1 anonymous reviewer
Identifying the factors which favour the establishment and spread of non-native species in novel environments is one of the keys to predict - and hence prevent or control - biological invasions. This includes biological factors (i.e. factors associated with the invasive species themselves), and one of the prevailing hypotheses is that some species traits may explain their impressive success to establish and spread in novel environments [1]. In animals, most research studies have focused on traits associated with fecundity, age at maturity, level of affiliation to humans or dispersal ability for instance. The "composite picture" of the perfect (i.e. successful) invader that has gradually emerged is a small-bodied animal strongly affiliated to human activities with high fecundity, high dispersal ability and a super high level of plasticity. Of course, the story is not that simple, and actually a perfect invader sometimes – if not often- takes another form… Carrying on to identify what makes a species a successful invader or not is hence still an important research axis with major implications.
In this manuscript, Charbonnel and collaborators [2] provide an interesting opportunity to gain novel insights into our understanding of (the) traits underlying invasion success. They nicely combine the power of Next-Generation Sequencing (NGS) with a clever comparative approach of two closely-related invasive rodents (the house mouse Mus musculus and the black rat Rattus rattus) in a common environment. They use this experimental design to test the appealing hypothesis that pathogens may be actors of the story, and may indirectly explain why some non-native species are so successful in invading novel habitats.
It is generally assumed that the community of pathogens encountered by non-native species in novel environments is different from that of their native area. On the one hand (the enemy-release hypothesis), it can be hypothesized that non-native species, when they arrive into a novel environment, will be relaxed from the pressure imposed by their native pathogens because local pathogens are not adapted (and hence do not infect) to this novel host. Because immune defence against pathogens is highly costly, non-native species establishing into a novel environment could hence reallocate these costs to other functions such as fecundity or dispersal apparatus. This scenario has been termed the "evolution of increased competitive ability" (EICA) hypothesis [3]. On the other hand (the EICA-refined hypothesis [4]), one can assume that invaders will encounter new pathogens in newly established areas, and will allocate energy toward cost-effective immune pathways to permit allocating a non-negligible amount of energy toward other functions. Finally, a last hypothesis (the "immune protection" hypothesis) assumes major changes in pathogen composition between native and invaded areas, which should lead to an overall increase in immune investment by the native species to successfully invade novel environments [4]. This last hypothesis suggests that only non-native species being able to take up the associated costs of immunity will be successful invaders.
The role of immunity in invasion success has yet been poorly investigated, mainly because of the difficulty to simultaneously analyse multiple immune pathways [4]. Charbonnel and collaborators [2] overpass this difficulty by screening all genes expressed (using a whole RNA sequencing approach) in an immune tissue: the spleen. They do so along the invasion routes of two sympatric invasive rodents in Africa and compare anciently and newly invaded areas (respectively). For one of the two species (the house mouse), they found a high number of immune-related genes to be up-regulated in newly invaded areas compared to anciently invaded areas. All categories of immune pathways (costly and cost-effective) were up-regulated, suggesting an overall increase in immune investment in the mouse, which corroborates the "immune protection" hypothesis. For the black rat, patterns of gene expression were somewhat different, with much less pronounced differentiation in gene expression between newly and anciently invaded areas. Among the few differentiated genes, a few were associated to immune responses and some of theses genes were even down-regulated in the newly invaded areas. This pattern may actually corroborate the EICA hypothesis, although it could alternatively suggest that stochastic processes (drift) associated to recent decrease in population size (which is expected during a colonisation event) are more important than selection imposed by pathogens in shaping patterns of immune gene expression.
Overall, this study [2] suggests (i) that immune-related traits are important in predicting invasion success and (ii) that two successful species with a similar invasion history and living in similar environments can use different life-history strategies to reach the same success. This later finding is particularly relevant and intriguing as it suggests that the traits and strategies deployed by species to colonise new habitats might actually be idiosyncratic, and that, if general trends actually emerge in regards of traits predicting the success of invaders, the devil might actually be into the details. Comparative studies are extremely important to identify the general rules and the specificities sustaining actual patterns, but these approaches are yet poorly used in biological invasions (at least empirically). The work presented by Charbonnel and colleagues [2] calls for future comparative studies performed at multiple spatial scales (native vs. non-native areas, anciently vs. recently invaded areas), multiple taxonomic resolutions and across multiple traits (to search for trade-offs), so that the success of invasive species can be properly understood and predicted.
References
[1] Jeschke, J. M., & Strayer, D. L. (2006). Determinants of vertebrate invasion success in Europe and North America. Global Change Biology, 12(9), 1608-1619. doi: 10.1111/j.1365-2486.2006.01213.x
[2] Blossey, B., & Notzold, R. (1995). Evolution of increased competitive ability in invasive nonindigenous plants: a hypothesis. Journal of Ecology, 83(5), 887-889. doi: 10.2307/2261425
[3] Charbonnel, N., Galan, M., Tatard, C., Loiseau, A., Diagne, C. A., Dalecky, A., Parrinello, H., Rialle, S., Severac, D., & Brouat, C. (2019). Differential immune gene expression associated with contemporary range expansion of two invasive rodents in Senegal. bioRxiv, 442160, ver. 5 peer-reviewed and recommended by PCI Ecology. doi: 10.1101/442160
[4] Lee, K. A., & Klasing, K. C. (2004). A role for immunology in invasion biology. Trends in Ecology & Evolution, 19(10), 523-529. doi: 10.1016/j.tree.2004.07.012