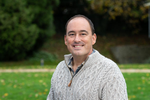 COULSON Tim
Department of Zoology, University of Oxford, Oxford, United Kingdom
Biodiversity, Climate change, Coexistence, Competition, Conservation biology, Demography, Evolutionary ecology, Life history, Ontogeny, Population ecology, Statistical ecology, Theoretical ecology
recommender, manager
Recommendations:
2
Reviews:
0
Educational and work
My group and I research how demographic rates vary across genotypes, phenotypes and environments. We identify the ecological, evolutionary and conservation consequences of this variation. We use a mix of field observations, laboratory experiments, statistical analysis of data and the construction and analysis of mathematical models. Research focuses on mammals, birds and invertebrates.
Recommendations: 2
03 Jun 2022
Evolutionary emergence of alternative stable states in shallow lakes
How to evolve an alternative stable state
Recommended by Tim Coulson based on reviews by

Jean-François Arnoldi

and 1 anonymous reviewer
Alternative stable states describe ecosystems that can persist in more than one configuration. An ecosystem can shift between stable states following some form of perturbation. There has been much work on predicting when ecosystems will shift between stable states, but less work on why some ecosystems are able to exist in alternative stable states in the first place. The paper by Ardichvili, Loeuille, and Dakos (2022) addresses this question using a simple model of a shallow lake. Their model is based on a trade-off between access to light and nutrient availability in the water column, two essential resources for the macrophytes they model. They then identify conditions when the ancestral macrophyte will diversify resulting in macrophyte species living at new depths within the lake. The authors find a range of conditions where alternative stable states can evolve, but the range is narrow. Nonetheless, their model suggests that for alternative stable states to exist, one requirement is for there to be asymmetric competition between competing species, with one species being a better competitor on one limiting resource, with the other being a better competitor on a second limiting resource.
These results are interesting and add to growing literature on how asymmetric competition can aid species coexistence. Asymmetric competition may be widespread in nature, with closely related species often being superior competitors on different resources. Incorporating asymmetric competition, and its evolution, into models does complicate theoretical investigations, but Ardichvili, Loeuille, and Dakos' paper elegantly shows how substantial progress can be made with a model that is still (relatively) simple.
References
Ardichvili A, Loeuille N, Dakos V (2022) Evolutionary emergence of alternative stable states in shallow lakes. bioRxiv, 2022.02.23.481597, ver. 3 peer-reviewed and recommended by Peer Community in Ecology. https://doi.org/10.1101/2022.02.23.481597
24 May 2022
Controversy over the decline of arthropods: a matter of temporal baseline?
Don't jump to conclusions on arthropod abundance dynamics without appropriate data
Recommended by Tim Coulson based on reviews by

Gabor L Lovei

and 1 anonymous reviewer
Humans are dramatically modifying many aspects of our planet via increasing concentrations of carbon dioxide in the atmosphere, patterns of land-use change, and unsustainable exploitation of the planet's resources. These changes impact the abundance of species of wild organisms, with winners and losers. Identifying how different species and groups of species are influenced by anthropogenic activity in different biomes, continents, and habitats, has become a pressing scientific question with many publications reporting analyses of disparate data on species population sizes. Many conclusions are based on the linear analysis of rather short time series of organismal abundances.

There has been particular interest in how arthropods are impacted by environmental change, with several recent papers reporting contradictory results. To investigate why these contradictions might arise, Duchenne et al. (2022) conducted an analysis of four published data sets along with a series of experimental analyses of simulated time series to examine the power of widely used statistical analyses to gain inference on temporal trends. Their important paper reveals that accurate inference on dynamics, particularly of species that exhibit large temporal fluctuations in abundance, requires time series that are substantially longer than are typically collected, as well as careful thought as to whether linear models are appropriate. Linear analyses of short time series are susceptible to providing unreliable inference as trends can be strongly influenced by points at either end of the time series.

Duchenne et al.'s paper provides important insight on the conditions when strong inference on temporal trends of arthropod (and other species) abundances can be made, and when they should be treated with caution. They do not doubt that many insect and arachnid species are changing their abundances, and that patterns in these changes may vary spatially. What their results do say is that we should treat grand claims of population recovery or rapid declines apparently to extinction with caution when they are based on short time series, particularly of species that show significant boom and bust dynamics. In many ways, these results are not unexpected, but it is nice to see such careful and thoughtful analyses and interpretation. More data are required for most arthropod species before clear assessments of abundance trends can be made. Given our reliance on many arthropods for food, pollination, and numerous ecosystem services, and the ability of other species to spread devastating human diseases such as dengue and malaria, it is advisable that we slow our modification of their habitats while additional data are collected to allow us to better characterise the trajectory of arthropod populations to understand what the consequences of our actions on the natural world are likely to be.

References
Duchenne F, Porcher E, Mihoub J-B, Loïs G, Fontaine C (2022) Controversy over the decline of arthropods: a matter of temporal baseline? bioRxiv, 2022.02.09.479422, ver. 3 peer-reviewed and recommended by Peer Community in Ecology. https://doi.org/10.1101/2022.02.09.479422