STANICZENKO Phillip P.A.
National Socio-Environmental Synthesis Center, University of Maryland, College Park, Annapolis, United States of America
Community ecology, Food webs, Interaction networks
recommender
Recommendation:
1
Review:
1
Areas of expertise
2016– Research Fellow. National Socio-Environmental Synthesis Center (SESYNC) 2013–2015 Research Fellow. Centre for Biodiversity and Environment Research, University College London 2011–2013 Postdoctoral Researcher. Allesina Lab, Department of Ecology and Evolution, University of Chicago 2007–2010 DPhil Condensed Matter Physics, University of Oxford (Wolfson College) 2003–2007 MPhys Undergraduate Masters in Physics, First Class Honours, University of Oxford (St. Anne's College)
Recommendation: 1
01 Jun 2018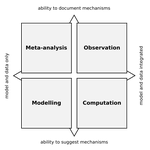 Data-based, synthesis-driven: setting the agenda for computational ecology
Some thoughts on computational ecology from people who I'm sure use different passwords for each of their accounts
Recommended by Phillip P.A. Staniczenko based on reviews by

Matthieu Barbier

and 1 anonymous reviewer
Are you an ecologist who uses a computer or know someone that does? Even if your research doesn't rely heavily on advanced computational techniques, it likely hasn't escaped your attention that computers are increasingly being used to analyse field data and make predictions about the consequences of environmental change. So before artificial intelligence and robots take over from scientists, now is great time to read about how experts think computers could make your life easier and lead to innovations in ecological research. In "Data-based, synthesis-driven: setting the agenda for computational ecology", Poisot and colleagues [1] provide a brief history of computational ecology and offer their thoughts on how computational thinking can help to bridge different types of ecological knowledge. In this wide-ranging article, the authors share practical strategies for realising three main goals: (i) tighter integration of data and models to make predictions that motivate action by practitioners and policy-makers; (ii) closer interaction between data-collectors and data-users; and (iii) enthusiasm and aptitude for computational techniques in future generations of ecologists. The key, Poisot and colleagues argue, is for ecologists to "engage in meaningful dialogue across disciplines, and recognize the currencies of their collaborations." Yes, this is easier said than done. However, the journey is much easier with a guide and when everyone involved serves to benefit not only from the eventual outcome, but also the process.
References
[1] Poisot, T., Labrie, R., Larson, E., & Rahlin, A. (2018). Data-based, synthesis-driven: setting the agenda for computational ecology. BioRxiv, 150128, ver. 4 recommended and peer-reviewed by PCI Ecology. doi: 10.1101/150128
Review: 1
06 Dec 2019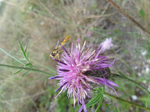 Does phenology explain plant-pollinator interactions at different latitudes? An assessment of its explanatory power in plant-hoverfly networks in French calcareous grasslands
The role of phenology for determining plant-pollinator interactions along a latitudinal gradient
Recommended by Anna Eklöf based on reviews by

Ignasi Bartomeus

,

Phillip P.A. Staniczenko

and 1 anonymous reviewer
Increased knowledge of what factors are determining species interactions are of major importance for our understanding of dynamics and functionality of ecological communities [1]. Currently, when ongoing temperature modifications lead to changes in species temporal and spatial limits the subject gets increasingly topical. A species phenology determines whether it thrive or survive in its environment. However, as the phenologies of different species are not necessarily equally affected by environmental changes, temporal or spatial mismatches can occur and affect the species-species interactions in the network [2] and as such the full network structure.
In this preprint by Manincor et al. [3] the authors explore the effect of phenology overlap on a large network of species interactions in calcareous grasslands in France. They analyze if and how this effect varies along a latitudinal gradient using empirical data on six plant-hoverfly networks. When comparing ecological network along gradients a well-known problem is that the network metrics is dependent on network size [4]. Therefore, instead of focusing on complete network structure the authors here focus on the factors that determine the probability of interactions and interaction frequency (number of visits). The authors use Bayesian Structural Equation Models (SEM) to link the interaction probability and number of visits to phenology overlap and species abundance. SEM is a multivariate technique that can be used to test several hypotheses and evaluate multiple causal relationships using both observed and latent variables to explain some other observed variables. The authors provide a nice description of the approach for this type of study system. In addition, the study also tests whether phenology affects network compartmentalization, by analyzing species subgroups using a latent block model (LBM) which is a clustering method particularly well-suited for weighted networks.
The authors identify phenology overlap as an important determinant of plant-pollinator interactions, but also conclude this factor alone is not sufficient to explain the species interactions. Species abundances was important for number of visits. Plant phenology drives the duration of the phenology overlap between plant and hoverflies in the studied system. This in turn influences either the probability of interaction or the expected number of visits, as well as network compartmentalization. Longer phenologies correspond to lower modularity inferring less constrained interactions, and shorter phenologies correspond to higher modularity inferring more constrained interactions.
What make this study particularly interesting is the presentation of SEMs as an innovative approach to compare networks of different sizes along environmental gradients. The authors show that these methods can be a useful tool when the aim is to understand the structure of plant-pollinator networks and data is varying in complexities. During the review process the authors carefully addressed to the comments from the two reviewers and the manuscript improved during the process. Both reviewers have expertise highly relevant for the research performed and the development of the manuscript. In my opinion this is a highly interesting and valuable piece of work both when it comes to the scientific question and the methodology. I look forward to further follow this research.
References
[1] Pascual, M., and Dunne, J. A. (Eds.). (2006). Ecological networks: linking structure to dynamics in food webs. Oxford University Press.
[2] Parmesan, C. (2007). Influences of species, latitudes and methodologies on estimates of phenological response to global warming. Global Change Biology, 13(9), 1860-1872. doi: 10.1111/j.1365-2486.2007.01404.x
[3] de Manincor, N., Hautekeete, N., Piquot, Y., Schatz, B., Vanappelghem, C. and Massol, F. (2019). Does phenology explain plant-pollinator interactions at different latitudes? An assessment of its explanatory power in plant-hoverfly networks in French calcareous grasslands. Zenodo, 2543768, ver. 4 peer-reviewed and recommended by PCI Ecology. doi: 10.5281/zenodo.2543768
[4] Staniczenko, P. P., Kopp, J. C., and Allesina, S. (2013). The ghost of nestedness in ecological networks. Nature communications, 4, 1391. doi: 10.1038/ncomms2422