CHOW Pizza Ka Yee
Comparative Cognition Research Group, Max Planck Institute for Ornithology, Seewiesen, Germany
Behaviour & Ethology, Competition, Zoology
Recommendations:
0
Reviews:
2
Reviews: 2
2020-10-06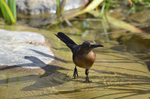 Implementing a rapid geographic range expansion - the role of behavior and habitat changes
Recommended by Esther Sebastián González based on reviews by

Pizza Ka Yee Chow

,

Caroline Marie Jeanne Yvonne Nieberding

,

Tim Parker

and 1 anonymous reviewer
The role of behavior and habitat availability on species geographic expansion
Understanding the relative importance of species-specific traits and environmental factors in modulating species distributions is an intriguing question in ecology [1]. Both behavioral flexibility (i.e., the ability to change the behavior in changing circumstances) and habitat availability are known to influence the ability of a species to expand its geographic range [2,3]. However, the role of each factor is context and species dependent and more information is needed to understand how these two factors interact.
In this pre-registration, Logan et al. [4] explain how they will use Great-tailed grackles (Quiscalus mexicanus), a species with a flexible behavior and a rapid geographic range expansion, to evaluate the relative role of habitat and behavior as drivers of the species' expansion [4]. The authors present very clear hypotheses, predicted results and also include alternative predictions. The rationales for all the hypotheses are clearly stated, and the methodology (data and analyses plans) are described with detail. The large amount of information already collected by the authors for the studied species during previous projects warrants the success of this study. It is also remarkable that the authors will make all their data available in a public repository, and that the pre-registration in already stored in GitHub, supporting open access and reproducible science.
I agree with the three reviewers of this pre-registration about its value and I think its quality has largely improved during the review process. Thus, I am happy to recommend it and I am looking forward to seeing the results.
References
[1] Gaston KJ. 2003. The structure and dynamics of geographic ranges. Oxford series in Ecology and Evolution. Oxford University Press, New York.
[2] Sol D, Lefebvre L. 2000. Behavioural flexibility predicts invasion success in birds introduced to new zealand. Oikos. 90(3): 599–605. doi: https://doi.org/10.1034/j.1600-0706.2000.900317.x
[3] Hanski I, Gilpin M. 1991. Metapopulation dynamics: Brief history and conceptual domain. Biological journal of the Linnean Society. 42(1-2): 3–16. doi: https://doi.org/10.1111/j.1095-8312.1991.tb00548.x
[4] Logan CJ, McCune KB, Breen A, Chen N, Lukas D. 2020. Implementing a rapid geographic range expansion - the role of behavior and habitat changes (http://corinalogan.com/Preregistrations/gxpopbehaviorhabitat.html) In principle acceptance by PCI Ecology of the version on 6 Oct 2020 https://github.com/corinalogan/grackles/blob/master/Files/Preregistrations/gxpopbehaviorhabitat.Rmd.
2019-08-07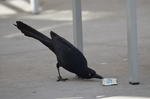 Is behavioral flexibility related to foraging and social behavior in a rapidly expanding species?
Recommended by Julia Astegiano and Esther Sebastián González based on reviews by

Pizza Ka Yee Chow

and

Esther Sebastián González
Understanding geographic range expansions in human-dominated landscapes: does behavioral flexibility modulate flexibility in foraging and social behavior?
Which biological traits modulate species distribution has historically been and still is one of the core questions of the macroecology and biogeography agenda [1, 2]. As most of the Earth surface has been modified by human activities [3] understanding the strategies that allow species to inhabit human-dominated landscapes will be key to explain species geographic distribution in the Anthropocene. In this vein, Logan et al. [4] are working on a long-term and integrative project aimed to investigate how great-tailed grackles rapidly expanded their geographic range into North America [4]. Particularly, they want to determine which is the role of behavioral flexibility, i.e. an individual's ability to modify its behavior when circumstances change based on learning from previous experience [5], in rapid geographic range expansions. The authors are already working in a set of complementary questions described in pre-registrations that have already been recommended at PCI Ecology: (1) Do individuals with greater behavioral flexibility rely more on causal cognition [6]? (2) Which are the mechanisms that lead to behavioral flexibility [7]? (3) Does the manipulation of behavioral flexibility affect exploration, but not boldness, persistence, or motor diversity [8]? (4) Can context changes improve behavioral flexibility [9]?
In this new pre-registration, they aim to determine whether the more behaviorally flexible individuals have more flexible foraging behaviors (i.e. use a wider variety of foraging techniques in the wild and eat a larger number of different foods), habitat use (i.e. higher microhabitat richness) and social relationships (i.e., are more likely to have a greater number of bonds or stronger bonds with other individuals; [4]). The project is ambitious, combining both the experimental characterization of individuals' behavioral flexibility and the field characterization of the foraging and social behavior of those individuals and of wild ones.
The current great-tailed grackles project will be highly relevant to understand rapid geographic range expansions in a changing world. In this vein, this pre-registration will particularly help to go one step further in our understanding of behavioral flexibility as a determinant of species geographic distribution. Logan et al. [4] pre-registration is very well designed, main and alternative hypotheses have been thought and written and methods are presented in a very detailed way, which includes the R codes that authors will use in their analyses. Authors have answered in a very detailed way each comment that reviewers have pointed out and modified the pre-registration accordingly, which we consider highly improved the quality of this work. That is why we strongly recommend this pre-registration and look forward to see the results.
References
[1] Gaston K. J. (2003) The structure and dynamics of geographic ranges. Oxford series in Ecology and Evolution. Oxford University Press, New York.
[2] Castro-Insua, A., Gómez‐Rodríguez, C., Svenning, J.C., and Baselga, A. (2018) A new macroecological pattern: The latitudinal gradient in species range shape. Global ecology and biogeography, 27(3), 357-367. doi: 10.1111/geb.12702
[3] Newbold, T., Hudson, L. N., Hill, S. L. L., Contu, S., Lysenko, I., Senior, R. A., et al. (2015). Global effects of land use on local terrestrial biodiversity. Nature, 520(7545), 45–50. doi: 10.1038/nature14324
[4] Logan CJ, McCune K, Bergeron L, Folsom M, Lukas D. (2019). Is behavioral flexibility related to foraging and social behavior in a rapidly expanding species? In principle recommendation by Peer Community In Ecology. http://corinalogan.com/Preregistrations/g_flexforaging.html
[5] Mikhalevich, I., Powell, R., and Logan, C. (2017). Is Behavioural Flexibility Evidence of Cognitive Complexity? How Evolution Can Inform Comparative Cognition. Interface Focus 7: 20160121. doi: 10.1098/rsfs.2016.0121.
[6] Fronhofer, E. (2019) From cognition to range dynamics: advancing our understanding of macroecological patterns. Peer Community in Ecology, 100014. doi: 10.24072/pci.ecology.100014
[7] Vogel, E. (2019) Adapting to a changing environment: advancing our understanding of the mechanisms that lead to behavioral flexibility. Peer Community in Ecology, 100016. doi: 10.24072/pci.ecology.100016
[8] Van Cleve, J. (2019) Probing behaviors correlated with behavioral flexibility. Peer Community in Ecology, 100020. doi: 10.24072/pci.ecology.100020
[9] Coulon, A. (2019) Can context changes improve behavioral flexibility? Towards a better understanding of species adaptability to environmental changes. Peer Community in Ecology, 100019. doi: 10.24072/pci.ecology.100019