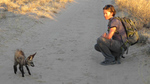 LE ROUX Aliza
Mammal Cognition Research Group, University of the Free State - Qwaqwa, Phuthaditjhaba, South Africa
Behaviour & Ethology, Evolutionary ecology, Experimental ecology, Foraging, Life history, Preregistrations, Social structure, Zoology
recommender
Recommendations:
2
Review:
1
Areas of expertise
I am a South African researcher with broad interests in the behavioural ecology of wild mammals. Although I have experience in acoustic communication, social behaviour and risk responses in monkeys as well as wild rodents, my main focus is small carnivores. I am particularly excited by the cognitive ecology and risk responses of wild carnivores such as bat-eared foxes and yellow mongoose. Living and working in southern Africa, I am a proponent of open science and the removal of systemic barriers to the inclusion of women and other (current) minorities in academia.
Recommendations: 2
04 May 2021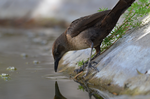 Are the more flexible great-tailed grackles also better at behavioral inhibition?
Great-tailed grackle research reveals need for researchers to consider their own flexibility and test limitations in cognitive test batteries.
Recommended by Aliza le Roux based on reviews by

Pizza Ka Yee Chow

and

Alex DeCasian
In the article, "Are the more flexible great-tailed grackles also better at behavioral inhibition?", Logan and colleagues (2021) are setting an excellent standard for cognitive research on wild-caught animals. Using a decent sample (N=18) of wild-caught birds, they set out to test the ambiguous link between behavioral flexibility and behavioral inhibition, which is supported by some studies but rejected by others. Where this study is more thorough and therefore also more revealing than most extant research, the authors ran a battery of tests, examining both flexibility (reversal learning and solution switching) and inhibition (go/no go task; detour task; delay of gratification) through multiple different test series. They also -- somewhat accidentally -- performed their experiments and analyses with and without different criteria for correctness (85%, 100%). Their mistakes, assumptions and amendments of plans made during preregistration are clearly stated and this demonstrates the thought-process of the researchers very clearly.
Logan et al. (2021) show that inhibition in great-tailed grackles is a multi-faceted construct, and demonstrate that the traditional go/no go task likely tests a very different aspect of inhibition than the detour task, which was never linked to any of their flexibility measures. Their comprehensive Bayesian analyses held up the results of some of the frequentist statistics, indicating a consistent relationship between flexibility and inhibition, with more flexible individuals also showing better inhibition (in the go/no go task). This same model, combined with inconsistencies in the GLM analyses (depending on the inclusion or exclusion of an outlier), led them to recommend caution in the creation of arbitrary thresholds for "success" in any cognitive tasks. Their accidental longer-term data collection also hinted at patterns of behaviour that shorter-term data collection did not. Of course, researchers have to decide on success criteria in order to conduct experiments, but in the same way that frequentist statistics are acknowledged to have flaws, the setting of success criteria must be acknowledged as inherently arbitrary. Where possible, researchers could reveal novel, biologically salient patterns by continuing beyond the point where a convenient success criterion has been reached. This research also underscores that tests may not be examining the features we expected them to measure, and are highly sensitive to biological and ecological variation between species as well as individual variation within populations.
To me, this study is an excellent argument for pre-registration of research (registered as Logan et al. 2019 and accepted by Vogel 2019), as the authors did not end up cherry-picking only those results or methods that worked. The fact that some of the tests did not "work", but was still examined, added much value to the study. The current paper is a bit densely written because of the comprehensiveness of the research. Some editorial polishing would likely make for more elegant writing. However, the arguments are clear, the results novel, and the questions thoroughly examined. The results are important not only for cognitive research on birds, but are potentially valuable to any cognitive scientist. I recommend this article as excellent food for thought.
References
Logan CJ, McCune K, Johnson-Ulrich Z, Bergeron L, Seitz B, Blaisdell AP, Wascher CAF. (2019) Are the more flexible individuals also better at inhibition? http://corinalogan.com/Preregistrations/g_inhibition.html In principle acceptance by PCI Ecology of the version on 6 Mar 2019
Logan CJ, McCune KB, MacPherson M, Johnson-Ulrich Z, Rowney C, Seitz B, Blaisdell AP, Deffner D, Wascher CAF (2021) Are the more flexible great-tailed grackles also better at behavioral inhibition? PsyArXiv, ver. 7 peer-reviewed and recommended by Peer community in Ecology. https://doi.org/10.31234/osf.io/vpc39
Vogel E (2019) Adapting to a changing environment: advancing our understanding of the mechanisms that lead to behavioral flexibility. Peer Community in Ecology, 100016. https://doi.org/10.24072/pci.ecology.100016
12 Oct 2019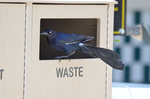 Investigating the use of learning mechanisms in a species that is rapidly expanding its geographic range
How would variation in environmental predictability affect the use of different learning mechanisms in a social bird?
Recommended by Aliza le Roux based on reviews by

Matthew Petelle

and 1 anonymous reviewer
In their pre-registered paper [1], McCune and colleagues propose a field-based study of social versus individual learning mechanisms in an avian species (great-tailed grackles) that has been expanding its geographic range. The study forms part of a longer-term project that addresses various aspects of this species' behaviour and biology, and the experience of the team is clear from the preprint. Assessing variation in learning mechanisms in different sections of the grackles' distribution range, the researchers will investigate how individual learning and social transmission may impact learning about novel challenges in the environment. Considering that this is a social species, the authors expect both individual learning and social transmission to occur, when groups of grackles encounter new challenges/ opportunities in the wild. This in itself is not a very unusual idea to test [2, 3], but the authors are rigorously distinguishing between imitation, emulation, local enhancement, and social enhancement. Such rigour is certainly valuable in studies of cognition in the wild.
Further, the authors predict that the contribution of individual versus social learning could vary between populations, as the core may contain fewer unfamiliar/novel stimuli than the edge, where artificial sources of water (for example) may be more common. They make an argument that the core, middle, and edge populations would experience differing levels of environmental predictability. If true, their field experiments could yield very novel results on how changes in environmental predictability affect social/individual learning in a single study species. Their data would then give unusual insights into the ecological value of individual learning and distinct forms of social learning – something that is not easy to test in wild animals. The authors consider a variety of alternative hypotheses that may ultimately explain their findings, and clarify their methods and analyses in fine detail. The authors also set out limitations clearly, and give a thorough account of their approaches and thinking.
The reviewers and I have a still-unanswered question, which is central to the study: what is the predictability or unpredictability of the core versus edge environments? Although the authors have explained similarities and distinctions between the different sections of the grackles' range, their description feels a bit vague -- it's not as rigorous or well-defined as the rest of the paper. Such a lack of definition may be inevitable in the limitations of a preprint, but ultimately it does suggest that there may be real uncertainty about the qualitative differences between the core, edge, and middle environments. The authors do explain that a lack of variation in individual responses to the field experiments would preclude the testing of further hypothesis, but do not mention how a salient lack of variation in novelty/ predictability between the environments could impact their hypotheses.
An assessment/quantification of the rate at which the different populations of grackles encounter novel stimuli would be a cornerstone of the success of this proposed study. Certainly, the authors cannot address this in much more detail during the preprint stage, but they need to consider how to best assess/describe differences before starting the full study. Such an assessment could take the form of either a GIS desktop study (comparing, for example, rates of dam/canal construction in core versus edge sections of the distribution range), or observational/ movement data contrasting how frequently members of core versus edge populations encounter artificial sources of water/food in a given month/year. Considering the long-term nature of the larger project, it is possible that these data are already available, but I am speculating. I would highly recommend that such an assessment be undertaken, beyond the mere mention of expected differences. This would solidify the central idea that there are concrete differences between the environments.
Despite this concern, the authors attended well to the comments and recommendations of the two reviewers – both experts in cognitive ecology. It is a preprint showing clear thinking and a consideration of most of the challenges that may be encountered during the course of the study. My own opinion and the estimations of the two reviewers all underscore the originality and value of this project – this should be a very valuable and potentially novel study. I look forward to seeing the outcomes of the research.
References
[1] McCune, K. B., McElreath, R., and Logan, C. J. (2019). Investigating the use of learning mechanisms in a species that is rapidly expanding its geographic range. In principle recommendation by Peer Community In Ecology. corinalogan.com/Preregistrations/g_sociallearning.html
[2] Benson-Amram, S. and Holekamp, K. E. (2012). Innovative problem solving by wild spotted hyenas. Proceedings of the Royal Society B: Biological Sciences, 279(1744), 4087–4095. doi: 10.1098/rspb.2012.1450
[3] Federspiel, I. G., Boeckle, M., von Bayern, A. M. P. and Emery, N. J. (2019). Exploring individual and social learning in jackdaws (Corvus monedula). Learning & Behavior, 47(3), 258–270. doi: 10.3758/s13420-019-00383-8
Review: 1
15 May 2023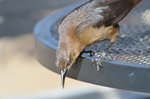 Behavioral flexibility is manipulable and it improves flexibility and innovativeness in a new context
An experiment to improve our understanding of the link between behavioral flexibility and innovativeness
Recommended by Aurélie Coulon based on reviews by

Maxime Dahirel

,

Andrea Griffin

,

Aliza le Roux

and 1 anonymous reviewer
Whether individuals are able to cope with new environmental conditions, and whether this ability can be improved, is certainly of great interest in our changing world. One way to cope with new conditions is through behavioral flexibility, which can be defined as "the ability to adapt behavior to new circumstances through packaging information and making it available to other cognitive processes" (Logan et al. 2023). Flexibility is predicted to be positively correlated with innovativeness, the ability to create a new behavior or use an existing behavior in a few situations (Griffin & Guez 2014).
The post-study manuscript by Logan et al. (2023) proposes to test flexibility manipulability, and the relationship between flexibility and innovativeness. The authors did so with an experimental study on great-tailed grackles (Quiscalus mexicanus), an expanding species in the US, known to be flexible.
The authors used serial reversal learning to investigate (1) whether behavioral flexibility, as measured by reversal learning using tubes of different shades, is manipulable; (2) whether manipulating (improving/training) behavioral flexibility improves flexibility and innovativeness in new contexts; (3) the type of learning strategy used by the individuals throughout the serial reversals.
The study described in this manuscript was pre-registered in Logan et al. (2019) and received in-principle recommendation on 26 Mar 2019 (Coulon 2019). One hypothesis from this original preregistration will be treated in a separate manuscript.
Among several interesting results, what I found most striking is that flexibility, in this species, seems to be a trait that is acquired by experience (vs. inherent to the individual). This opens exciting interrogations on the role of social learning, and on the impact of rapid environmental changes (which may force the individuals to experiment new ways to access to resources, for example), on individual flexibility and adaptability to new conditions.

REFERENCES
Coulon A (2019) Can context changes improve behavioral flexibility? Towards a better understanding of species adaptability to environmental changes. Peer Community in Ecology, 100019. https://doi.org/10.24072/pci.ecology.100019
Griffin, A. S., & Guez, D. (2014). Innovation and problem solving: A review of common mechanisms. Behavioural Processes, 109, 121–134. https://doi.org/10.1016/j.beproc.2014.08.027
Logan C, Rowney C, Bergeron L, Seitz B, Blaisdell A, Johnson-Ulrich Z, McCune K (2019)
Is behavioral flexibility manipulatable and, if so, does it improve flexibility and problem solving in a new context? In Principle Recommendation 2019. PCI Ecology. http://corinalogan.com/Preregistrations/g_flexmanip.html
Logan CJ, Lukas D, Blaisdell AP, Johnson-Ulrich Z, MacPherson M, Seitz B, Sevchik A, McCune KB (2023) Behavioral flexibility is manipulable and it improves flexibility and innovativeness in a new context. EcoEcoRxiv, version 5 peer-reviewed and recommended by Peer Community in Ecology. https://doi.org/10.32942/osf.io/5z8xs