THEBAULT Elisa
Institute of Ecology and Environmental Sciences of Paris, CNRS, Paris, France
Biodiversity, Community ecology, Facilitation & Mutualism, Food webs, Interaction networks, Theoretical ecology
recommender
Recommendations:
2
Reviews:
0
Recommendations: 2
21 Oct 2020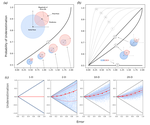 Why scaling up uncertain predictions to higher levels of organisation will underestimate change
Uncertain predictions of species responses to perturbations lead to underestimate changes at ecosystem level in diverse systems
Recommended by Elisa Thebault based on reviews by

Carlos Melian

and 1 anonymous reviewer
Different sources of uncertainty are known to affect our ability to predict ecological dynamics (Petchey et al. 2015). However, the consequences of uncertainty on prediction biases have been less investigated, especially when predictions are scaled up to higher levels of organisation as is commonly done in ecology for instance. The study of Orr et al. (2020) addresses this issue. It shows that, in complex systems, the uncertainty of unbiased predictions at a lower level of organisation (e.g. species level) leads to a bias towards underestimation of change at higher level of organisation (e.g. ecosystem level). This bias is strengthened by larger uncertainty and by higher dimensionality of the system.
This general result has large implications for many fields of science, from economics to energy supply or demography. In ecology, as discussed in this study, these results imply that the uncertainty of predictions of species' change increases the probability of underestimation of changes of diversity and stability at community and ecosystem levels, especially when species richness is high. The uncertainty of predictions of species' change also increases the probability of underestimation of change when multiple ecosystem functions are considered at once, or when the combined effect of multiple stressors is considered.
The consequences of species diversity on ecosystem functions and stability have received considerable attention during the last decades (e.g. Cardinale et al. 2012, Kéfi et al. 2019). However, since the bias towards underestimation of change increases with species diversity, future studies will need to investigate how the general statistical effect outlined by Orr et al. might affect our understanding of the well-known relationships between species diversity and ecosystem functioning and stability in response to perturbations.
References
Cardinale BJ, Duffy JE, Gonzalez A, Hooper DU, Perrings C, Venail P, Narwani A, Mace GM, Tilman D, Wardle DA, Kinzig AP, Daily GC, Loreau M, Grace JB, Larigauderie A, Srivastava DS, Naeem S (2012) Biodiversity loss and its impact on humanity. Nature, 486, 59–67. https://doi.org/10.1038/nature11148
Kéfi S, Domínguez‐García V, Donohue I, Fontaine C, Thébault E, Dakos V (2019) Advancing our understanding of ecological stability. Ecology Letters, 22, 1349–1356. https://doi.org/10.1111/ele.13340
Orr JA, Piggott JJ, Jackson A, Arnoldi J-F (2020) Why scaling up uncertain predictions to higher levels of organisation will underestimate change. bioRxiv, 2020.05.26.117200. https://doi.org/10.1101/2020.05.26.117200
Petchey OL, Pontarp M, Massie TM, Kéfi S, Ozgul A, Weilenmann M, Palamara GM, Altermatt F, Matthews B, Levine JM, Childs DZ, McGill BJ, Schaepman ME, Schmid B, Spaak P, Beckerman AP, Pennekamp F, Pearse IS (2015) The ecological forecast horizon, and examples of its uses and determinants. Ecology Letters, 18, 597–611. https://doi.org/10.1111/ele.12443
29 Jan 2020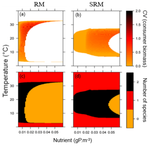 Stoichiometric constraints modulate the effects of temperature and nutrients on biomass distribution and community stability
On the importance of stoichiometric constraints for understanding global change effects on food web dynamics
Recommended by Elisa Thebault based on reviews by 2 anonymous reviewers
The constraints associated with the mass balance of chemical elements (i.e. stoichiometric constraints) are critical to our understanding of ecological interactions, as outlined by the ecological stoichiometry theory [1]. Species in ecosystems differ in their elemental composition as well as in their level of elemental homeostasis [2], which can determine the outcome of interactions such as herbivory or decomposition on species coexistence and ecosystem functioning [3, 4].
Despite their importance, stoichiometric constraints are still often ignored in theoretical studies exploring the consequences of environmental perturbations on food web stability. Meanwhile, drivers of global change strongly alter biochemical cycles and the balance of chemical elements in ecosystems [5]. An important challenge is thus to understand how stoichiometric constraints affect food web responses to global changes.
The study of Sentis et al. [6] makes a step in that direction. This article investigates how stoichiometric constraints affect the response of consumer-resource dynamics to increasing temperature and nutrient inputs. It shows that the stoichiometric flexibility of the resource, coupled with lower consumer assimilation efficiency when stoichiometric unbalance between the resource and the consumer is higher, dampens the destabilizing effects of nutrient enrichment on species dynamics but reduces consumer persistence at extreme temperatures. Interestingly, these effects of stoichiometric constraints arise not only from changes in species assimilation efficiencies and carrying capacities but also from stoichiometric negative feedback loops on resource and consumer populations.
The results of this study are a call to further include stoichiometric constraints into food web models to better understand and predict the consequences of global changes on ecological communities. Many perspectives exist on that issue. For instance, it would be interesting to assess the effects of other stoichiometric mechanisms (e.g. changes in the element limiting growth [3]) on food web stability and its response to nutrient enrichment, as well as the effects of other global change drivers associated with altered biochemical cycles (e.g. carbon dioxide increase).
References
[1] Sterner, R. W. and Elser, J. J. (2017). Ecological Stoichiometry, The Biology of Elements from Molecules to the Biosphere. doi: 10.1515/9781400885695
[2] Elser, J. J., Sterner, R. W., Gorokhova, E., Fagan, W. F., Markow, T. A., Cotner, J. B., Harrison, J.F., Hobbie, S.E., Odell, G.M., Weider, L. W. (2000). Biological stoichiometry from genes to ecosystems. Ecology Letters, 3(6), 540–550. doi: 10.1111/j.1461-0248.2000.00185.x
[3] Daufresne, T., and Loreau, M. (2001). Plant–herbivore interactions and ecological stoichiometry: when do herbivores determine plant nutrient limitation? Ecology Letters, 4(3), 196–206. doi: 10.1046/j.1461-0248.2001.00210.x
[4] Zou, K., Thébault, E., Lacroix, G., and Barot, S. (2016). Interactions between the green and brown food web determine ecosystem functioning. Functional Ecology, 30(8), 1454–1465. doi: 10.1111/1365-2435.12626
[5] Peñuelas, J., Poulter, B., Sardans, J., Ciais, P., van der Velde, M., Bopp, L., Boucher, O., Godderis, Y., Hinsinger, P., Llusia, J., Nardin, E., Vicca, S., Obersteiner, M., Janssens, I. A. (2013). Human-induced nitrogen–phosphorus imbalances alter natural and managed ecosystems across the globe. Nature Communications, 4(1), 1–10. doi: 10.1038/ncomms3934
[6] Sentis, A., Haegeman, B. & Montoya, J.M. (2020). Stoichiometric constraints modulate the effects of temperature and nutrients on biomass distribution and community stability. bioRxiv, 589895, ver. 7 peer-reviewed and recommended by PCI Ecology. doi: 10.1101/589895