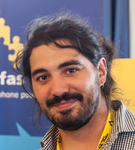 CAZELLES Kevin
Integrative Biology, University of Guelph, Guelph, Canada
Biodiversity, Biogeography, Climate change, Coexistence, Community ecology, Food webs, Macroecology, Meta-analyses, Spatial ecology, Metacommunities & Metapopulations, Species distributions, Statistical ecology
recommender
Recommendation:
1
Reviews:
2
Areas of expertise
I regard myself as a theoretician/data scientist motivated by a strong desire to apply the results of abstract investigations to tangible challenges such as the impact of land-use change on ecological networks. During my PhD, I investigated the relationship between biotic interactions and species co-occurrence. Species's range limits are indeed not only affected by abiotic factors (such as precipitations and temperature), but they also are determined by the biological context. Although this was first suggested years ago, researchers are still struggling to find adequate approaches that appropriately include all of these factors which are key towards accurate predictions of tomorrow's biodiversity. I have found some promising research avenues to elucidate the conditions under which biotic factors cannot be neglected to predict species' distribution. In the post-doctoral project I have started in June of 2017, I am striving to apply the results of my PhD on the fish communities of the Ontario's lakes.
Recommendation: 1
01 Apr 2019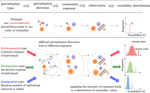 The inherent multidimensionality of temporal variability: How common and rare species shape stability patterns
Diversity-Stability and the Structure of Perturbations
Recommended by Kevin Cazelles and Kevin Shear McCann based on reviews by

Frederic Barraquand

and 1 anonymous reviewer
In his 1972 paper "Will a Large Complex System Be Stable?" [1], May challenges the idea that large communities are more stable than small ones. This was the beginning of a fundamental debate that still structures an entire research area in ecology: the diversity-stability debate [2]. The most salient strength of May's work was to use a mathematical argument to refute an idea based on the observations that simple communities are less stable than large ones. Using the formalism of dynamical systems and a major results on the distribution of the eigen values for random matrices, May demonstrated that the addition of random interactions destabilizes ecological communities and thus, rich communities with a higher number of interactions should be less stable. But May also noted that his mathematical argument holds true only if ecological interactions are randomly distributed and thus concluded that this must not be true! This is how the contradiction between mathematics and empirical observations led to new developments in the study of ecological networks.
Since 1972, the theoretical corpus of ecology has advanced, building on the formalism of dynamical systems, ecologists have revealed that ecological interactions are indeed not randomly distributed [3,4], but general rules are still missing and we are far from understanding what determine the exact network topology of a given community. One promising avenue is to understand the relationship between different facets of the concept of stability [5,6]. Indeed, the classical approach to determine whether a system is stable is qualitative: if a system returns to its equilibrium when it is slightly moved away from it, then the system is considered stable. But there are several other aspects that are worth scrutinizing. For instance, when a system returns to its equilibrium, one can characterize the corresponding transient dynamics [7,8], that is asking fundamental questions such as: what is the trajectory of return? How long does it take to return to the equilibrium? Another fundamental question is whether the system remains qualitatively stable when the distributions of interactions strengths change? From a biological standpoint, all of these questions matter as all these aspects of stability may partially explain the actual structure of ecological networks, and hence, frameworks that integrate several facets of stability are much needed.
The study by Arnoldi et al. [9] is a significant step towards such a framework. The strength of their formalism is threefold. First, instead of considering separately the system and its perturbations, they considering the fluctuations of a perturbed ecological systems and thus, perturbations are parts of the ecological system. Second, they use of a broad definition of perturbation that encompasses the types of perturbations (whether the individual respond synchronously or not), their intensity and their direction (how the perturbations are correlated across species). Third, they quantify the instability of the system using variability which integrates the consequences of perturbations over the whole set of species of a community: such a measure is comparable across communities and accounts for the trivial effect of the perturbations on the system dynamics.
Using this framework, the authors show that interactions within a stable community leads to a general relationship between variability and the abundance of individually perturbed species: if individuals of species respond in synchrony to a perturbation, then the more abundant the species perturbed the higher the variability of the system, but the relationship is reverse when individual respond asynchronously. A direct implications of these results for the classical debate is that the diversity-stability relationship is negative for the former type of perturbations (as in May's seminal paper) but positive for the latter type. Hence, the rigorous work of Arnoldi and colleagues sheds a new light upon the classical debate: the nature of the perturbation regime prevailing within a community affects the slope of the diversity-stability relationships and given the vast diversity of ecological communities, this may very well be one of the reasons why the debate still endures.
From a historical perspective, it is interesting that ecologists have gone from looking at random webs to structured webs and now, in a sense, Arnoldi et al. are unpacking the role of differentially structured perturbations. The work they achieved will doubtlessly be followed by further theoretical investigations. One natural research avenue is to revisit the role of the topology of ecological networks with this framework: how the distribution of interactions and their strength affect the general relationship they unravel? Finally, this study demonstrate that the impact of the abundance of a species on the variability of the system depends on the nature of the perturbation regime and so the distribution of species abundances within a community should be determined by the prevailing perturbation regime which is a prediction that remains to be tested.
References
[1] May, Robert M (1972). Will a Large Complex System Be Stable? Nature 238, 413–414. doi: 10.1038/238413a0
[2] McCann, Kevin Shear (2000). The Diversity–Stability Debate. Nature 405, 228–233. doi: 10.1038/35012234
[3] Rooney, Neil, Kevin McCann, Gabriel Gellner, and John C. Moore (2006). Structural Asymmetry and the Stability of Diverse Food Webs. Nature 442, 265–269. doi: 10.1038/nature04887
[4] Jacquet, Claire, Charlotte Moritz, Lyne Morissette, Pierre Legagneux, François Massol, Philippe Archambault, and Dominique Gravel (2016). No Complexity–Stability Relationship in Empirical Ecosystems. Nature Communications 7, 12573. doi: 10.1038/ncomms12573
[5] Donohue, Ian, Helmut Hillebrand, José M. Montoya, Owen L. Petchey, Stuart L. Pimm, Mike S. Fowler, Kevin Healy, et al. (2016). Navigating the Complexity of Ecological Stability. Ecology Letters 19, 1172–1185. doi: 10.1111/ele.12648
[6] Arnoldi, Jean-François, and Bart Haegeman (2016). Unifying Dynamical and Structural Stability of Equilibria. Proceedings of the Royal Society A: Mathematical, Physical and Engineering Science 472, 20150874. doi: 10.1098/rspa.2015.0874
[7] Caswell, Hal, and Michael G. Neubert (2005). Reactivity and Transient Dynamics of Discrete-Time Ecological Systems. Journal of Difference Equations and Applications 11, 295–310. doi: 10.1080/10236190412331335382
[8] Arnoldi, J-F., M. Loreau, and B. Haegeman (2016). Resilience, Reactivity and Variability: A Mathematical Comparison of Ecological Stability Measures. Journal of Theoretical Biology 389, 47–59. doi: 10.1016/j.jtbi.2015.10.012
[9] Arnoldi, Jean-Francois, Michel Loreau, and Bart Haegeman. (2019). The Inherent Multidimensionality of Temporal Variability: How Common and Rare Species Shape Stability Patterns." BioRxiv, 431296, ver. 3 peer-reviewed and recommended by PCI Ecology. doi: 10.1101/431296
Reviews: 2
27 May 2019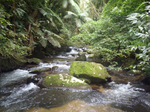 Community size affects the signals of ecological drift and selection on biodiversity
Toward an empirical synthesis on the niche versus stochastic debate
Recommended by Eric Harvey based on reviews by

Kevin Cazelles

and

Romain Bertrand
As far back as Clements [1] and Gleason [2], the historical schism between deterministic and stochastic perspectives has divided ecologists. Deterministic theories tend to emphasize niche-based processes such as environmental filtering and species interactions as the main drivers of species distribution in nature, while stochastic theories mainly focus on chance colonization, random extinctions and ecological drift [3]. Although the old days when ecologists were fighting fiercely over null models and their adequacy to capture niche-based processes is over [4], the ghost of that debate between deterministic and stochastic perspectives came back to haunt ecologists in the form of the 'environment versus space' debate with the development of metacommunity theory [5]. While interest in that question led to meaningful syntheses of metacommunity dynamics in natural systems [6], it also illustrated how context-dependant the answer was [7]. One of the next frontiers in metacommunity ecology is to identify the underlying drivers of this observed context-dependency in the relative importance of ecological processus [7, 8].
Reflecting on seminal work by Robert MacArthur emphasizing different processes at different spatial scales [9, 10] (the so-called 'MacArthur paradox'), Chase and Myers proposed in 2011 that a key in solving the deterministic versus stochastic debate was probably to turn our attention to how the relative importance of local processes changes across spatial scales [3]. Scale-dependance is a well-acknowledged challenge in ecology, hampering empirical syntheses and comparisons between studies [11-14]. Embracing the scale-dependance of ecological processes would not only lead to stronger syntheses and consolidation of current knowledge, it could also help resolve many current debates or apparent contradictions [11, 15, 16].
The timely study by Siqueira et al. [17] fits well within this historical context by exploring the relative importance of ecological drift and selection across a gradient of community size (number of individuals in a given community). More specifically, they tested the hypothesis that small communities are more dissimilar among each other because of ecological drift compared to large communities, which are mainly structured by niche selection [17]. That smaller populations or communities should be more affected by drift is a mathematical given [18], but the main questions are i) for a given community size how important is ecological drift relative to other processes, and ii) how small does a community have to be before random assembly dominates? The authors answer these questions using an extensive stream dataset with a community size gradient sampled from 200 streams in two climatic regions (Brazil and Finland). Combining linear models with recent null model approaches to measure deviations from random expectations [19], they show that, as expected based on theory and recent experimental work, smaller communities tend to have higher β-diversity, and that those β-diversity patterns could not be distinguished from random assembly processes [17]. Spatial turnover among larger communities is mainly driven by niche-based processes related to species sorting or dispersal dynamics [17]. Given the current environmental context, with many anthropogenic perturbations leading to reduced community size, it is legitimate to wonder, as the authors do, whether we are moving toward a more stochastic and thus less predictable world with obvious implications for the conservation of biodiversity [17].
The real strength of the study by Siqueira et al. [17], in my opinion, is in the inclusion of stream data from boreal and tropical regions. Interestingly and most importantly, the largest communities in the tropical streams are as large as the smallest communities in the boreal streams. This is where the study should really have us reflect on the notions of context-dependency in observed patterns because the negative relationship between community size and β-diversity was only observed in the tropical streams, but not in the boreal streams [17]. This interesting nonlinearity in the response means that a study that would have investigated the drift versus niche-based question only in Finland would have found very different results from the same study in Brazil. Only by integrating such a large scale gradient of community sizes together could the authors show the actual shape of the relationship, which is the first step toward building a comprehensive synthesis on a debate that has challenged ecologists for almost a century.
References
[1] Clements, F. E. (1936). Nature and structure of the climax. Journal of ecology, 24(1), 252-284. doi: 10.2307/2256278
[2] Gleason, H. A. (1917). The structure and development of the plant association. Bulletin of the Torrey Botanical Club, 44(10), 463-481. doi: 10.2307/2479596
[3] Chase, J. M., and Myers, J. A. (2011). Disentangling the importance of ecological niches from stochastic processes across scales. Philosophical transactions of the Royal Society B: Biological sciences, 366(1576), 2351-2363. doi: 10.1098/rstb.2011.0063
[4] Diamond, J. M., and Gilpin, M. E. (1982). Examination of the "null" model of Connor and Simberloff for species co-occurrences on islands. Oecologia, 52(1), 64-74. doi: 10.1007/BF00349013
[5] Leibold M. A., et al. (2004). The metacommunity concept: a framework for multi‐scale community ecology. Ecology letters, 7(7), 601-613. doi: 10.1111/j.1461-0248.2004.00608.x
[6] Cottenie, K. (2005). Integrating environmental and spatial processes in ecological community dynamics. Ecology letters, 8(11), 1175-1182. doi: 10.1111/j.1461-0248.2005.00820.x
[7] Leibold, M. A. and Chase, J. M. (2018). Metacommunity Ecology. Monographs in Population Biology, vol. 59. Princeton University Press. [8] Vellend, M. (2010). Conceptual synthesis in community ecology. The Quarterly review of biology, 85(2), 183-206. doi: 10.1086/652373
[9] MacArthur, R. H., and Wilson, E. O. (1963). An equilibrium theory of insular zoogeography. Evolution, 17(4), 373-387. doi: 10.1111/j.1558-5646.1963.tb03295.x
[10] MacArthur, R. H., and Levins, R. (1967). The limiting similarity, convergence, and divergence of coexisting species. The American Naturalist, 101(921), 377-385. doi: 10.1086/282505
[11] Viana, D. S., and Chase, J. M. (2019). Spatial scale modulates the inference of metacommunity assembly processes. Ecology, 100(2), e02576. doi: 10.1002/ecy.2576
[12] Chave, J. (2013). The problem of pattern and scale in ecology: what have we learned in 20 years?. Ecology letters, 16, 4-16. doi: 10.1111/ele.12048
[13] Patrick, C. J., and Yuan, L. L. (2019). The challenges that spatial context present for synthesizing community ecology across scales. Oikos, 128(3), 297-308. doi: 10.1111/oik.05802
[14] Chase, J. M., and Knight, T. M. (2013). Scale‐dependent effect sizes of ecological drivers on biodiversity: why standardised sampling is not enough. Ecology letters, 16, 17-26. doi: 10.1111/ele.12112
[15] Horváth, Z., Ptacnik, R., Vad, C. F., and Chase, J. M. (2019). Habitat loss over six decades accelerates regional and local biodiversity loss via changing landscape connectance. Ecology letters, 22(6), 1019-1027. doi: 10.1111/ele.13260
[16] Chase, J. M, Gooriah, L., May, F., Ryberg, W. A, Schuler, M. S, Craven, D., and Knight, T. M. (2019). A framework for disentangling ecological mechanisms underlying the island species–area relationship. Frontiers of Biogeography, 11(1). doi: 10.21425/F5FBG40844.
[17] Siqueira T., Saito V. S., Bini L. M., Melo A. S., Petsch D. K. , Landeiro V. L., Tolonen K. T., Jyrkänkallio-Mikkola J., Soininen J. and Heino J. (2019). Community size affects the signals of ecological drift and niche selection on biodiversity. bioRxiv 515098, ver. 4 peer-reviewed and recommended by PCI Ecology. doi: 10.1101/515098
[18] Hastings A., Gross L. J. eds. (2012). Encyclopedia of theoretical ecology (University of California Press, Berkeley).
[19] Chase, J. M., Kraft, N. J., Smith, K. G., Vellend, M., and Inouye, B. D. (2011). Using null models to disentangle variation in community dissimilarity from variation in α‐diversity. Ecosphere, 2(2), 1-11. doi: 10.1890/ES10-00117.1
10 Jan 2019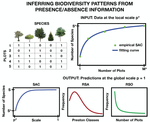 Inferring macro-ecological patterns from local species' occurrences
Upscaling the neighborhood: how to get species diversity, abundance and range distributions from local presence/absence data
Recommended by Matthieu Barbier based on reviews by

Kevin Cazelles

and 1 anonymous reviewer
How do you estimate the biodiversity of a whole community, or the distribution of abundances and ranges of its species, from presence/absence data in scattered samples?
It all starts with the collector's dilemma: if you double the number of samples, you will not get double the number of species, since you will find many of the same common species, and only a few new rare ones.
This non-additivity has prompted many ecologists to study the Species-Area Relationship. A common theoretical approach has been to connect this spatial pattern to the overall distribution of how common or rare a species can be. At least since Fisher's celebrated log-series [1], ecologists have been trying to, first, infer the shape of the Species Abundance Distribution, and then, use it to predict how many species should be found in a given area or a given number of samples. This has found many applications, from microbial communities to tropical forests, from estimating the number of yet-unknown species to predicting how much biodiversity may be lost if a fraction of the habitat is removed.
In this elegant work, Tovo et al. [2] propose a method that starts only from presence/absence data over a number of samples, and provides the community's diversity, as well as its abundance and range size distributions. This method is simple, analytically explicit, and accurate: the authors test it on the classic Pasoh and Barro Colorado Island tropical forest datasets, and on simulated data. They make a very laudable effort in both explaining its theoretical underpinnings, and proposing a straightforward step-by-step guide to applying it to data.
The core of Tovo et al's method is a simple property: the scale invariance of the Negative Binomial (NB) distribution. Subsampling from a NB gives another NB, where a single parameter has changed. Therefore, if the Species Abundance Distribution is close enough to some NB (which is flexible enough to accommodate all the data here), we can estimate how this parameter changes when going from (1) a single sample to (2) all the available samples, and from there, extrapolate to (3) the entire community.
This principle was first applied by the authors in a previous study [3] that required abundance data in the samples, rather than just presence/absence. Given that binary occurrence data is far more available in a variety of empirical settings, this extension is worthwhile (including its new predictions on range size distributions), and it deserves to be widely known and tested.
ADDITIONAL COMMENTS
1) To explain the novelty of the authors' contribution, it is useful to look at competing techniques.
Some ""parametric"" approaches try to infer the whole-community Species Abundance Distribution (SAD) by guessing its functional form (Gaussian, power-law, log-series...) and fitting its parameters from sampled data. The issue is that this distribution shape may not remain in the same family as we increase the sampling effort or area, so the regression problem may not be well-defined. This is where the Negative Binomial's scale invariance is useful.
Other ""non-parametric"" approaches have renounced guessing the whole SAD: they simply try to approximate of its tail of rare species, by looking at how many species are found in only one (or a few) samples. From this, they derive an estimate of biodiversity that is agnostic to the rest of the SAD. Tovo et al. [2] show the issue with these approaches: they extrapolate from the properties of individual samples to the whole community, but do not properly account for the bias introduced by the amount of sampling (the intermediate scale (2) in the summary above).
2) The main condition for all such approaches to work is well-mixedness: each sample should be sufficiently like a lot drawn from the same skewed lottery. As long as that condition applies, finding the best approach is a theoretical matter of probabilities and combinatorics that may, in time, be given a definite answer.
The authors also show that ""well-mixed"" is not as restrictive as it sounds: the method works both on real data (which is never perfectly mixed) and on simulations where species are even more spatially clustered than the empirical data. In addition, the Negative Binomial's scale invariance entails that, if it works well enough at some spatial scale, it will also work at all higher scales (until one reaches the edges of the sufficiently-well-mixed community)
3) One may ask: why the Negative Binomial as a Species Abundance Distribution?
If one wishes for some dynamical explanation, the Negative Binomial can be derived from neutral birth and death process with immigration, as shown by the authors in [3]. But to be applied to data, it should only be able to approximate the empirical distribution well enough (at all relevant scales). Depending on one's taste, this type of probabilistic approaches can be interpreted as:
- purely phenomenological, describing only the observational process of sampling from an existing state of affairs, not the ecological processes that gave rise to that state.
- a null model, from which everything in practice is expected to deviate to some extent.
- or a way to capture the statistical forces that tend to induce stable relationships between different patterns (as long as no ecological process opposes them strongly enough).
References
[1] Fisher, R. A., Corbet, A. S., & Williams, C. B. (1943). The relation between the number of species and the number of individuals in a random sample of an animal population. The Journal of Animal Ecology, 42-58. doi: 10.2307/1411
[2] Tovo, A., Formentin, M., Suweis, S., Stivanello, S., Azaele, S., & Maritan, A. (2019). Inferring macro-ecological patterns from local species' occurrences. bioRxiv, 387456, ver. 2 peer-reviewed and recommended by PCI Ecol. doi: 10.1101/387456
[3] Tovo, A., Suweis, S., Formentin, M., Favretti, M., Volkov, I., Banavar, J. R., Azaele, S., & Maritan, A. (2017). Upscaling species richness and abundances in tropical forests. Science Advances, 3(10), e1701438. doi: 10.1126/sciadv.1701438