CARDINI Ulisse
Marine Symbiomes Research Group, Integrative Marine Ecology Department, Stazione Zoologica Anton Dohrn, Napoli, Italy
Biodiversity, Biological invasions, Chemical ecology, Climate change, Coexistence, Ecological stoichiometry, Ecosystem functioning, Experimental ecology, Facilitation & Mutualism, Human impact, Marine ecology, Microbial ecology & microbiology, Physiology, Symbiosis, Tropical ecology
recommender
Recommendation:
1
Reviews:
0
Areas of expertise
My research interests are inherently broad ranging and expanding, but I maintain a focus on benthic ecology and the biogeochemistry of host-microbe interactions, as well as the physiological and ecological consequences of these dynamics in the face of climate change. For more about my group and our interests, please see www.marinesymbiomes.eu
Recommendation: 1
13 May 2023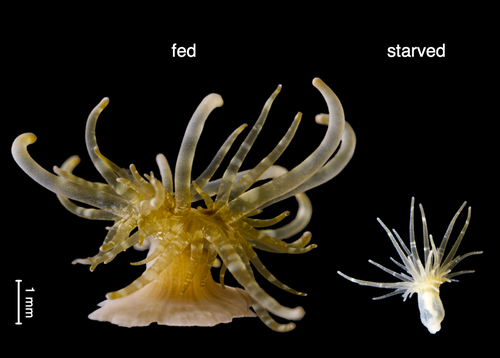 Symbiotic nutrient cycling enables the long-term survival of Aiptasia in the absence of heterotrophic food sources
Constraining the importance of heterotrophic vs autotrophic feeding in photosymbiotic cnidarians
Recommended by Ulisse Cardini based on reviews by 2 anonymous reviewers
The symbiosis with autotrophic dinoflagellate algae has enabled heterotrophic Cnidaria to thrive in nutrient-poor tropical waters (Muscatine and Porter 1977; Stanley 2006). In particular, mixotrophy, i.e. the ability to acquire nutrients through both autotrophy and heterotrophy, confers a competitive edge in oligotrophic waters, allowing photosymbiotic Cnidaria to outcompete benthic organisms limited to a single diet (e.g., McCook 2001). However, the relative importance of autotrophy vs heterotrophy in sustaining symbiotic cnidarian's nutrition is still the subject of intense research. In fact, figuring out the cellular mechanisms by which symbiotic Cnidaria acquire a balanced diet for their metabolism and growth is relevant to our understanding of their physiology under varying environmental conditions and in response to anthropogenic perturbations.
In this study's long-term starvation experiment, Radecker & Meibom (2023) investigated the survival of the photosymbiotic sea anemone Aiptasia in the absence of heterotrophic feeding. After one year of heterotrophic starvation, Apitasia anemones remained fully viable but showed an 85 % reduction in biomass. Using 13C-bicarbonate and 15N-ammonium labeling, electron microscopy and NanoSIMS imaging, the authors could clearly show that the contribution of algal-derived nutrients to the host metabolism remained unaffected as a result of increased algal photosynthesis and more efficient carbon translocation. At the same time, the absence of heterotrophic feeding caused severe nitrogen limitation in the starved Apitasia anemones.
Overall, this study provides valuable insights into nutrient exchange within the symbiosis between Cnidaria and dinoflagellate algae at the cellular level and sheds new light on the importance of heterotrophic feeding as a nitrogen acquisition strategy for holobiont growth in oligotrophic waters.
REFERENCES
McCook L (2001) Competition between corals and algal turfs along a gradient of terrestrial influence in the nearshore central Great Barrier Reef. Coral Reefs 19:419–425. https://doi.org/10.1007/s003380000119
Muscatine L, Porter JW (1977) Reef corals: mutualistic symbioses adapted to nutrient-poor environments. Bioscience 27:454–460. https://doi.org/10.2307/1297526
Radecker N, Meibom A (2023) Symbiotic nutrient cycling enables the long-term survival of Aiptasia in the absence of heterotrophic food sources. bioRxiv, ver. 3 peer-reviewed and recommended by Peer Community in Ecology. https://doi.org/10.1101/2022.12.07.519152
Stanley GD Jr (2006) Photosymbiosis and the evolution of modern coral reefs. Science 312:857–858. https://doi.org/10.1126/science.1123701