FOELLMER Matthias
Ecology, Department of Biology, Adelphi Univeristy, Garden City, NY, United States of America
Agroecology, Allometry, Behaviour & Ethology, Biodiversity, Community ecology, Eco-evolutionary dynamics, Evolutionary ecology, Life history, Terrestrial ecology
recommender
Recommendations:
0
Review:
1
Review: 1
07 Oct 2019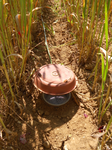 Which pitfall traps and sampling efforts should be used to evaluate the effects of cropping systems on the taxonomic and functional composition of arthropod communities?
On the importance of experimental design: pitfall traps and arthropod communities
Recommended by Ignasi Bartomeus based on reviews by

Cécile ALBERT

and

Matthias Foellmer
Despite the increasing refinement of statistical methods, a robust experimental design is still one of the most important cornerstones to answer ecological and evolutionary questions. However, there is a strong trade-off between a perfect design and its feasibility. A common mantra is that more data is always better, but how much is enough is complex to answer, specially when we want to capture the spatial and temporal variability of a given process. Gardarin and Valantin-Morison [1] make an effort to answer these questions for a practical case: How many pitfalls traps, of which type, and over which extent, do we need to detect shifts in arthropod community composition in agricultural landscapes. There is extense literature on how to approach these challenges using preliminary data in combination with simulation methods [e.g. 2], but practical cases are always welcomed to illustrate the complexity of the decisions to be made. A key challenge in this situation is the nature of simplified and patchy agricultural arthropod communities. In this context, small effect sizes are expected, but those small effects are relevant from an ecological point of view because small increases at low biodiversity may produce large gains in ecosystem functioning [3].
The paper shows that some variables are not important, such as the type of fluid used to fill the pitfall traps. This is good news for potential comparisons among studies using slightly different protocols. However, the bad news are that the sampling effort needed for detecting community changes is larger than the average effort currently implemented. A potential solution is to focus on Community Weighed Mean metrics (CWM; i.e. a functional descriptor of the community body size distribution) rather than on classic metrics such as species richness, as detecting changes on CWM requires a lower sampling effort and it has a clear ecological interpretation linked to ecosystem functioning.
Beyond the scope of the data presented, which is limited to a single region over two years, and hence it is hard to extrapolate to other regions and years, the big message of the paper is the need to incorporate statistical power simulations as a central piece of the ecologist's toolbox. This is challenging, especially when you face questions such as: Should I replicate over space, or over time? The recommended paper is accompanied by the statistical code used, which should facilitate this task to other researchers. Furthermore, we should be aware that some important questions in ecology are highly variable in space and time, and hence, larger sampling effort across space and time is needed to detect patterns. Larger and longer monitoring schemes require a large effort (and funding), but if we want to make relevant ecology, nobody said it would be easy.
References
[1] Gardarin, A. and Valantin-Morison, M. (2019). Which pitfall traps and sampling efforts should be used to evaluate the effects of cropping systems on the taxonomic and functional composition of arthropod communities? Zenodo, 3468920, ver. 3 peer-reviewed and recommended by PCI Ecology. doi: 10.5281/zenodo.3468920
[2] Johnson, P. C., Barry, S. J., Ferguson, H. M., and Müller, P. (2015). Power analysis for generalized linear mixed models in ecology and evolution. Methods in ecology and evolution, 6(2), 133-142. doi: 10.1111/2041-210X.12306
[3] Cardinale, B. J. et al. (2012). Biodiversity loss and its impact on humanity. Nature, 486(7401), 59-67. doi: 10.1038/nature11148