CAPLINS Serena
Recommendations:
0
Review:
1
Review: 1
11 Aug 2023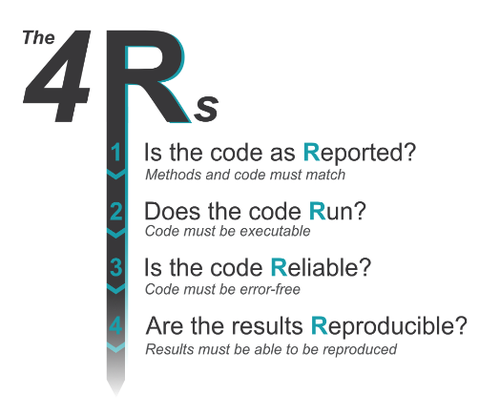 Implementing Code Review in the Scientific Workflow: Insights from Ecology and Evolutionary Biology
A handy "How to" review code for ecologists and evolutionary biologists
Recommended by Corina Logan based on reviews by

Serena Caplins

and 1 anonymous reviewer
Ivimey Cook et al. (2023) provide a concise and useful "How to" review code for researchers in the fields of ecology and evolutionary biology, where the systematic review of code is not yet standard practice during the peer review of articles. Consequently, this article is full of tips for authors on how to make their code easier to review. This handy article applies not only to ecology and evolutionary biology, but to many fields that are learning how to make code more reproducible and shareable. Taking this step toward transparency is key to improving research rigor (Brito et al. 2020) and is a necessary step in helping make research trustable by the public (Rosman et al. 2022).
References
Brito, J. J., Li, J., Moore, J. H., Greene, C. S., Nogoy, N. A., Garmire, L. X., & Mangul, S. (2020). Recommendations to enhance rigor and reproducibility in biomedical research. GigaScience, 9(6), giaa056. https://doi.org/10.1093/gigascience/giaa056
Ivimey-Cook, E. R., Pick, J. L., Bairos-Novak, K., Culina, A., Gould, E., Grainger, M., Marshall, B., Moreau, D., Paquet, M., Royauté, R., Sanchez-Tojar, A., Silva, I., Windecker, S. (2023). Implementing Code Review in the Scientific Workflow: Insights from Ecology and Evolutionary Biology. EcoEvoRxiv, ver 5 peer-reviewed and recommended by Peer Community In Ecology. https://doi.org/10.32942/X2CG64
Rosman, T., Bosnjak, M., Silber, H., Koßmann, J., & Heycke, T. (2022). Open science and public trust in science: Results from two studies. Public Understanding of Science, 31(8), 1046-1062. https://doi.org/10.1177/09636625221100686