CONCEPCIÓN Elena D
Biogeography and Global Change, National Museum of Natural Sciences, Spanish National Research Council (MNCN-CSIC), Madrid, Spain
Agroecology, Biodiversity, Community ecology, Conservation biology, Ecosystem functioning, Landscape ecology, Macroecology
Recommendations:
0
Review:
1
Areas of expertise
I am a landscape ecologist and macroecologist mostly interested on the impacts of human-driven land-use changes on biodiversity and ecosystems at broad spatial scales. My research can be assigned to three major lines: (1) Impacts of agricultural intensification on biodiversity and policy assessment (2) Urban ecology and impacts of urban expansion on biodiversity and ecosystems (3) Valuation of biodiversity and ecosystem services
Review: 1
14 Jul 2023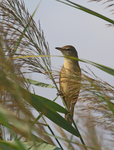 Field margins as substitute habitat for the conservation of birds in agricultural wetlands
Searching for conservation opportunities at the margins
Recommended by Ana S. L. Rodrigues based on reviews by

Scott Wilson

and

Elena D Concepción
In a progressively human-dominated planet (Venter et al., 2016), the fate of many species will depend on the extent to which they can persist in anthropogenic landscapes. In Western Europe, where only small areas of primary habitat remain (e.g. Sabatini et al., 2018), semi-natural areas are crucial habitats to many native species, yet they are threatened by the expansion of human activities, including agricultural expansion and intensification (Rigal et al., 2023).
A new study by Mallet and colleagues (Mallet et al., 2023) investigates the extent to which bird species in the Camargue region are able to use the margins of agricultural fields as substitutes for their preferred semi-natural habitats. Located in the delta of the Rhône River in Southern France, the Camargue is internationally recognized for its biodiversity value, classified as a Biosphere Reserve by UNESCO and as a Wetland of International Importance under the Ramsar Convention (IUCN & UN-WCMC, 2023). Mallet and colleagues tested three specific hypotheses: that grass strips (grassy field boundaries, including grassy tracks or dirt roads used for moving agricultural machinery) can function as substitute habitats for grassland species; that reed strips along drainage ditches (common in the rice paddy landscapes of the Camargue) can function as substitute habitats to wetland species; and that hedgerows can function as substitute habitats to species that favour woodland edges. They did so by measuring how the local abundances of 14 bird species (nine typical of forest edges, 3 of grasslands, and two of reedbeds) respond to increasing coverage of either the three types of field margins or of the three types of semi-natural habitat.
This is an elegant study design, yet – as is often the case with real field data – results are not as simple as expected. Indeed, for most species (11 out of 14) local abundances did not increase significantly with the area of their supposed primary habitat, undermining the assumption that they are strongly associated with (or dependent on) those habitats. Among the three species that did respond positively to the area of their primary habitat, one (a forest edge species) responded positively but not significantly to the area of field margins (hedgerows), providing weak evidence to the habitat compensation hypothesis. For the other two (grassland and a wetland species), abundance responded even more strongly to the area of field margins (grass and reed strips, respectively) than to the primary habitat, suggesting that the field margins are not so much a substitute but valuable habitats in their own right.
It would have been good conservation news if field margins were found to be suitable habitat substitutes to semi-natural habitats, or at least reasonable approximations, to most species. Given that these margins have functional roles in agricultural landscapes (marking boundaries, access areas, water drainage), they could constitute good win-win solutions for reconciling biodiversity conservation with agricultural production. Alas, the results are more complicated than that, with wide variation in species responses that could not have been predicted from presumed habitat affinities. These results illustrate the challenges of conservation practice in complex landscapes formed by mosaics of variable land use types. With species not necessarily falling neatly into habitat guilds, it becomes even more challenging to plan strategically how to manage landscapes to optimize their conservation. The results presented here suggest that species' abundances may be responding to landscape variables not taken into account in the analyses, such as connectivity between habitat patches, or maybe positive and negative edge effects between land use types. That such uncertainties remain even in a well-studied region as the Camargue, and for such a well-studied taxon such as birds, only demonstrates the continued importance of rigorous field studies testing explicit hypotheses such as this one by Mallet and colleagues.
References
IUCN, & UN-WCMC (2023). Protected Planet. Protected Planet. https://www.protectedplanet.net/en
Mallet, P., Béchet, A., Sirami, C., Mesléard, F., Blanchon, T., Calatayud, F., Dagonet, T., Gaget, E., Leray, C., & Galewski, T. (2023). Field margins as substitute habitat for the conservation of birds in agricultural wetlands. bioRxiv, 2022.05.05.490780, ver. 3 peer-reviewed and recommended by Peer Community in Ecology. https://doi.org/10.1101/2022.05.05.490780
Rigal, S., Dakos, V., Alonso, H., Auniņš, A., Benkő, Z., Brotons, L., Chodkiewicz, T., Chylarecki, P., de Carli, E., del Moral, J. C. et al. (2023). Farmland practices are driving bird population decline across Europe. Proceedings of the National Academy of Sciences, 120, e2216573120. https://doi.org/10.1073/pnas.2216573120
Sabatini, F. M., Burrascano, S., Keeton, W. S., Levers, C., Lindner, M., Pötzschner, F., Verkerk, P. J., Bauhus, J., Buchwald, E., Chaskovsky, O., Debaive, N. et al. (2018). Where are Europe's last primary forests? Diversity and Distributions, 24, 1426–1439. https://doi.org/10.1111/ddi.12778
Venter, O., Sanderson, E. W., Magrach, A., Allan, J. R., Beher, J., Jones, K. R., Possingham, H. P., Laurance, W. F., Wood, P., Fekete, B. M., Levy, M. A., & Watson, J. E. M. (2016). Sixteen years of change in the global terrestrial human footprint and implications for biodiversity conservation. Nature Communications, 7, 12558. https://doi.org/10.1038/ncomms12558