BONTE Dries
Ghent University, Dept. Biology, Ghent, Belgium
Biological invasions, Coexistence, Colonization, Community ecology, Competition, Demography, Dispersal & Migration, Eco-evolutionary dynamics, Evolutionary ecology, Experimental ecology, Food webs, Foraging, Habitat selection, Interaction networks, Landscape ecology, Life history, Maternal effects, Phenotypic plasticity, Population ecology, Soil ecology, Spatial ecology, Metacommunities & Metapopulations, Terrestrial ecology
recommender
Recommendations:
0
Review:
1
Review: 1
20 Jun 2019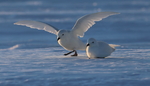 Sexual segregation in a highly pagophilic and sexually dimorphic marine predator
Sexual segregation in a sexually dimorphic seabird: a matter of spatial scale
Recommended by Denis Réale based on reviews by

Dries Bonte

and 1 anonymous reviewer
Sexual segregation appears in many taxa and can have important ecological, evolutionary and conservation implications. Sexual segregation can take two forms: either the two sexes specialise in different habitats but share the same area (habitat segregation), or they occupy the same habitat but form separate, unisex groups (social segregation) [1,2]. Segregation would have evolved as a way to avoid, or at least, reduce intersexual competition.
Testing whether social or habitat segregation is at play necessitates the use of combined approaches to determine the spatial scale at which segregation occurs. This enterprise is even more challenging when studying marine species, which travel over long distances to reach their foraging areas. This is what Barbraud et al. [3] have endeavoured on the snow petrel (Pagodroma nivea), a sexually dimorphic, polar seabird. Studying sexual segregation at sea requires tools for indirect measures of habitat use and foraging tactics. During the incubation period, in a colony based at Pointe Geologie, Adelie land, East Antarctica, the team has equipped birds with GPS loggers to analyse habitat use and foraging behaviour. It has also compared short-, mid-, and long-term stable isotopic profiles, from plasma, blood cells, and feather samples, respectively.
Barbraud et al. [3] could not detect any evidence for sexual segregation in space use. Furthermore, the two sexes showed similar δ13C profiles, illustrating similar foraging latitudes, and indicating no sexual segregation at large spatial scales. Snow petrels all forage exclusively in the sea ice environment formed over the deep Antarctic continental shelf. The authors, however, found other forms of segregation: males consistently foraged at higher sea ice concentrations than females. Males also fed on higher trophic levels than females. Therefore, male and female snow petrels segregate at a smaller spatial scale, and use different foraging tactics and diet specialisations. Females also took shorter foraging trips than males, with higher mass gain that strongly benefit from higher sea ice concentration. Mass gain in males increased with the length of their foraging trip at sea ice areas.
The authors conclude that high sea ice concentration offers the most favourable foraging habitat for snow petrels, and thus that intersexual competition may drive females away from high sea ice areas. This study shows that combining information from different tools provides an elegant way of isolating the potential factors driving sexual segregation and the spatial scales at which it occurs.
References
[1] Conradt, L. (2005). Definitions, hypotheses, models and measures in the study of animal segregation. In Sexual segregation in vertebrates: ecology of the two sexes (Ruckstuhl K.E. and Neuhaus, P. eds). Cambridge University Press, Cambridge, United Kingdom. Pp:11–34.
[2] Ruckstuhl, K. E. (2007). Sexual segregation in vertebrates: proximate and ultimate causes. Integrative and Comparative Biology, 47(2), 245-257. doi: 10.1093/icb/icm030
[3] Barbraud, C., Delord, K., Kato, A., Bustamante, P., & Cherel, Y. (2018). Sexual segregation in a highly pagophilic and sexually dimorphic marine predator. bioRxiv, 472431, ver. 3 peer-reviewed and recommended bt PCI Ecology. doi: 10.1101/472431