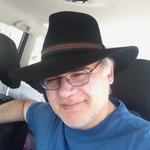 MEDEL Rodrigo
Laboratory of Evolutionary Ecology, University of Chile, Santiago, Chile
Community ecology, Evolutionary ecology, Facilitation & Mutualism, Host-parasite interactions, Interaction networks, Pollination
recommender
Recommendation:
1
Reviews:
0
Educational and work
I got my PhD from Catholic University of Chile in 1993. Since then I have been interested in questions related to plant-animal interactions with emphasis on mutualistic (pollination, seed dispersal) and antagonist (floral herbivory, host-parasite) interactions. I often set my research in a coevolutionary framework to understand the way contemporary and historical processes have molded the origin and unfolding of ecological interactions. In my research I use a series of methodological approaches, including field experiments, natural selection estimates, geometric morphometrics, network analyses, quantitative genetics and phylogenetic analyses, among others.
Recommendation: 1
30 Mar 2020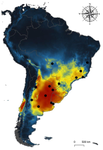 Environmental variables determining the distribution of an avian parasite: the case of the Philornis torquans complex (Diptera: Muscidae) in South America
Recommended by Rodrigo Medel based on reviews by 4 anonymous reviewers
Catching the fly in dystopian times
Host-parasite interactions are ubiquitous on Earth. They are present in almost every conceivable ecosystem and often result from a long history of antagonist coevolution [1,2]. Recent studies on climate change have revealed, however, that modification of abiotic variables are often accompanied by shifts in the distributional range of parasites to habitats far beyond their original geographical distribution, creating new interactions in novel habitats with unpredictable consequences for host community structure and organization [3,4]. This situation may be especially critical for endangered host species having small population abundance and restricted distribution range. The infestation of bird species with larvae of the muscid fly genus Philornis is a case in point. At least 250 bird species inhabiting mostly Central and South America are infected by Philornis flies [5,6]. Fly larval development occurs in bird faeces, nesting material, or inside nestlings, affecting the development and nestling survival.
Recent reports indicate significant reduction of bird numbers associated with recent Philornis infection, the most conspicuous being Galapagos finches [7,8]. One way to prevent this potential effect consists in to examine the expected geographical shift of Philornis fly species under future climate change scenarios so that anticipatory conservation practices become implemented for endangered bird species. In this regard, Ecological Niche Modeling (ENM) techniques have been increasingly used as a useful tool to predict disease transmission as well as the species becoming infected under different climate change scenarios [9-11]. The paper of Cuervo et al. [12] is an important advance in this regard. By identifying for the first time the macro-environmental variables influencing the abiotic niche of species of the Philornis torquans complex in southern South America, the authors perform a geographical projection model that permits identification of the areas susceptible to be colonized by Philornis species in Argentina, Brazil, and Chile, including habitats where the parasitic fly is still largely absent at present. Their results are promissory for conservation studies and contribute to the still underdeveloped issue of the way climate change impacts on antagonistic ecological relationships.
References
[1] Thompson JN (1994) The Coevolutionary Process. University of Chicago Press.
[2] Poulin R (2007) Evolutionary Ecology of Parasites: (Second Edition). Princeton University Press. doi: 10.2307/j.ctt7sn0x
[3] Pickles RSA, Thornton D, Feldman R, Marques A, Murray DL (2013) Predicting shifts in parasite distribution with climate change: a multitrophic level approach. Global Change Biology, 19, 2645–2654. doi: 10.1111/gcb.12255
[4] Marcogliese DJ (2016) The distribution and abundance of parasites in aquatic ecosystems in a changing climate: More than just temperature. Integrative and Comparative Biology, 56, 611–619. doi: 10.1093/icb/icw036
[5] Dudaniec RY, Kleindorfer S (2006) Effects of the parasitic flies of the genus Philornis (Diptera: Muscidae) on birds. Emu - Austral Ornithology, 106, 13–20. doi: 10.1071/MU04040
[6] Antoniazzi LR, Manzoli DE, Rohrmann D, Saravia MJ, Silvestri L, Beldomenico PM (2011) Climate variability affects the impact of parasitic flies on Argentinean forest birds. Journal of Zoology, 283, 126–134. doi: 10.1111/j.1469-7998.2010.00753.x
[7] Fessl B, Sinclair BJ, Kleindorfer S (2006) The life-cycle of Philornis downsi (Diptera: Muscidae) parasitizing Darwin's finches and its impacts on nestling survival. Parasitology, 133, 739–747. doi: 10.1017/S0031182006001089
[8] Kleindorfer S, Peters KJ, Custance G, Dudaniec RY, O'Connor JA (2014) Changes in Philornis infestation behavior threaten Darwin's finch survival. Current Zoology, 60, 542–550. doi: 10.1093/czoolo/60.4.542
[9] Johnson EE, Escobar LE, Zambrana-Torrelio C (2019) An ecological framework for modeling the geography of disease transmission. Trends in Ecology and Evolution, 34, 655–668. doi: 10.1016/j.tree.2019.03.004
[10] Carvalho BM, Rangel EF, Ready PD, Vale MM (2015) Ecological niche modelling predicts southward expansion of Lutzomyia (Nyssomyia) flaviscutellata (Diptera: Psychodidae: Phlebotominae), vector of Leishmania (Leishmania) amazonensis in South America, under climate change. PLOS ONE, 10, e0143282. doi: 10.1371/journal.pone.0143282
[11] Garrido R, Bacigalupo A, Peña-Gómez F, Bustamante RO, Cattan PE, Gorla DE, Botto-Mahan C (2019) Potential impact of climate change on the geographical distribution of two wild vectors of Chagas disease in Chile: Mepraia spinolai and Mepraia gajardoi. Parasites and Vectors, 12, 478. doi: 10.1186/s13071-019-3744-9
[12] Cuervo PF, Percara A, Monje L, Beldomenico PM, Quiroga MA (2020) Environmental variables determining the distribution of an avian parasite: the case of the Philornis torquans complex (Diptera: Muscidae) in South America. bioRxiv, 839589, ver. 5 peer-reviewed and recommended by PCI Ecology. doi: 10.1101/839589