ORO Dani
Recommendations:
0
Review:
1
Review: 1
22 Apr 2021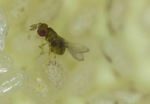 The hidden side of the Allee effect: correlated demographic traits and extinction risk in experimental populations
Allee effects under the magnifying glass
Recommended by David Alonso based on reviews by

Tom Van Dooren

,

Dani Oro

and 1 anonymous reviewer
For decades, the effect of population density on individual performance has been studied by ecologists using both theoretical, observational, and experimental approaches. The generally accepted definition of the Allee effect is a positive correlation between population density and average individual fitness that occurs at low population densities, while individual fitness is typically decreased through intraspecific competition for resources at high population densities. Allee effects are very relevant in conservation biology because species at low population densities would then be subjected to much higher extinction risks.
However, due to all kinds of stochasticity, low population numbers are always more vulnerable to extinction than larger population sizes. This effect by itself cannot be necessarily ascribed to lower individual performance at low densities, i.e, Allee effects. Vercken and colleagues (2021) address this challenging question and measure the extent to which average individual fitness is affected by population density analyzing 30 experimental populations. As a model system, they use populations of parasitoid wasps of the genus Trichogramma. They report Allee effect in 8 out 30 experimental populations. Vercken and colleagues's work has several strengths.
First of all, it is nice to see that they put theory at work. This is a very productive way of using theory in ecology. As a starting point, they look at what simple theoretical population models say about Allee effects (Lewis and Kareiva 1993; Amarasekare 1998; Boukal and Berec 2002). These models invariably predict a one-humped relation between population-density and per-capita growth rate. It is important to remark that pure logistic growth, the paradigm of density-dependence, would never predict such qualitative behavior. It is only when there is a depression of per-capita growth rates at low densities that true Allee effects arise. Second, these authors manage to not only experimentally test this main prediction but also report additional demographic traits that are consistently affected by population density.
In these wasps, individual performance can be measured in terms of the average number of individuals every adult is able to put into the next generation ---the lambda parameter in their analysis. The first panel in figure 3 shows that the per-capita growth rates are lower in populations presenting Allee effects, the ones showing a one-humped behavior in the relation between per-capita growth rates and population densities (see figure 2). Also other population traits, such maximum population size and exitinction probability, change in a correlated and consistent manner.
In sum, Vercken and colleagues's results are experimentally solid and based on theory expectations. However, they are very intriguing. They find the signature of Allee effects in only 8 out 30 populations, all from the same genus Trichogramma, and some populations belonging to the same species (from different sampling sites) do not show consistently Allee effects. Where does this population variability comes from? What are the reasons underlying this within- and between-species variability? What are the individual mechanisms driving Allee effects in these populations? Good enough, this piece of work generates more intriguing questions than the question is able to clearly answer. Science is not a collection of final answers but instead good questions are the ones that make science progress.
References
Amarasekare P (1998) Allee Effects in Metapopulation Dynamics. The American Naturalist, 152, 298–302. https://doi.org/10.1086/286169
Boukal DS, Berec L (2002) Single-species Models of the Allee Effect: Extinction Boundaries, Sex Ratios and Mate Encounters. Journal of Theoretical Biology, 218, 375–394. https://doi.org/10.1006/jtbi.2002.3084
Lewis MA, Kareiva P (1993) Allee Dynamics and the Spread of Invading Organisms. Theoretical Population Biology, 43, 141–158. https://doi.org/10.1006/tpbi.1993.1007
Vercken E, Groussier G, Lamy L, Mailleret L (2021) The hidden side of the Allee effect: correlated demographic traits and extinction risk in experimental populations. HAL, hal-02570868, ver. 4 peer-reviewed and recommended by Peer community in Ecology. https://hal.archives-ouvertes.fr/hal-02570868