DILEO Michelle
Organismal and Evolutionary Biology, University of Helsinki, Helsinki, Finland
Conservation biology, Dispersal & Migration, Evolutionary ecology, Landscape ecology, Molecular ecology, Spatial ecology, Metacommunities & Metapopulations
recommender
Recommendation:
1
Reviews:
0
Areas of expertise
Postdoc, University of Helsinki, 2016-Present PhD, University of Toronto, 2016 MSc, Queen's University, 2011 BSc, Queen's University, 2009
Recommendation: 1
11 May 2020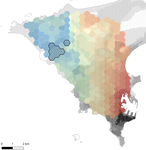 Interplay between historical and current features of the cityscape in shaping the genetic structure of the house mouse (Mus musculus domesticus) in Dakar (Senegal, West Africa)
Urban past predicts contemporary genetic structure in city rats
Recommended by Michelle DiLeo based on reviews by

Tuomas Aivelo

,

Torsti Schulz

and 1 anonymous reviewer
Urban areas are expanding worldwide, and have become a dominant part of the landscape for many species. Urbanization can fragment pre-existing populations of vulnerable species leading to population declines and the loss of connectivity. On the other hand, expansion of urban areas can also facilitate the spread of human commensals including pests. Knowledge of the features of cityscapes that facilitate gene flow and maintain diversity of pests is thus key to their management and eradication.
Cities are complex mosaics of natural and manmade surfaces, and habitat quality is not only influenced by physical aspects of the cityscape but also by socioeconomic factors and human behaviour. Constant development means that cities also change rapidly in time; contemporary urban life reflects only a snapshot of the environmental conditions faced by populations. It thus remains a challenge to identify the features that actually drive ecology and evolution of populations in cities [1]. While several studies have highlighted strong urban clines in genetic structure and adaption [2], few have considered the influence of factors beyond physical aspects of the cityscape or historical processes.
In this paper, Stragier et al. [3] sought to identify the current and past features of the cityscape and socioeconomic factors that shape genetic structure and diversity of the house mouse (Mus musculus domesticus) in Dakar, Senegal. The authors painstakingly digitized historical maps of Dakar from the time of European settlement in 1862 to present. The authors found that the main spatial genetic cline was best explained by historical cityscape features, with higher apparent gene flow and genetic diversity in areas that were connected earlier to initial European settlements. Beyond the main trend of spatial genetic structure, they found further evidence that current features of the cityscape were important. Specifically, areas with low vegetation and poor housing conditions were found to support large, genetically diverse populations. The authors demonstrate that their results are reproducible using several statistical approaches, including modeling that explicitly accounts for spatial autocorrelation.
The work of Stragier et al. [3] thus highlights that populations of city-dwelling species are the product of both past and present cityscapes. Going forward, urban evolutionary ecologists should consider that despite the potential for rapid evolution in urban landscapes, the signal of a species' colonization can remain for generations.
References
[1] Rivkin, L. R., Santangelo, J. S., Alberti, M. et al. (2019). A roadmap for urban evolutionary ecology. Evolutionary Applications, 12(3), 384-398. doi: 10.1111/eva.12734
[2] Miles, L. S., Rivkin, L. R., Johnson, M. T., Munshi‐South, J. and Verrelli, B. C. (2019). Gene flow and genetic drift in urban environments. Molecular ecology, 28(18), 4138-4151. doi: 10.1111/mec.15221
[3] Stragier, C., Piry, S., Loiseau, A., Kane, M., Sow, A., Niang, Y., Diallo, M., Ndiaye, A., Gauthier, P., Borderon, M., Granjon, L., Brouat, C. and Berthier, K. (2020). Interplay between historical and current features of the cityscape in shaping the genetic structure of the house mouse (Mus musculus domesticus) in Dakar (Senegal, West Africa). bioRxiv, 557066, ver. 4 peer-reviewed and recommended by PCI Ecology. doi: 10.1101/557066