PARKER Tim
Department of Biology, Whitman College, Walla Walla, United States of America
Behaviour & Ethology, Competition, Conservation biology, Demography, Evolutionary ecology, Experimental ecology, Life history, Meta-analyses, Preregistrations, Terrestrial ecology, Zoology
recommender
Recommendation:
1
Review:
1
Areas of expertise
EDUCATION Ph.D. Biology, University of New Mexico, with Distinction, 2002. M.S. Biology, Kansas State University, 1997. B.A. International Development, Clark University, 1992. __________________________________________________________________________________________________________ PROFESSIONAL EXPERIENCE Associate Professor, Biol. Dept., Environmental Studies Prgrm., Whitman College, 2014 – present Visiting Associate Professor, Dept. of Biol. Sciences, Macquarie Univ., Australia, 2017 Chair, Biology Department, Whitman College, 2014 – 2016, 2017 - 2019 Director, Wallula Gap Biological Station, Biology Dept., Whitman College. 2010 – present Assistant Professor, Biology Dept., Environmental Studies Prgrm., Whitman College, 2008 – 2014 Visiting Assistant Professor, Research Associate, Biology Dept., Whitman College, 2007-2008 Adjunct Assistant Professor, Research Associate, Biology Dept., Whitman College, 2006-2007 Research Assistant Professor, Division of Biology, Kansas State University, 2005-2006 NSF International Research Fellow, Oxford Univ. (UK), 2003-2004, Kansas State Univ., 2004-2005 Post-Doctoral Researcher, Kansas State University, 2002-2003
Recommendation: 1
28 Feb 2023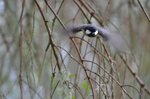 Acoustic cues and season affect mobbing responses in a bird community
Two common European songbirds elicit different community responses with their mobbing calls
Recommended by Tim Parker based on reviews by 2 anonymous reviewers
Many bird species participate in mobbing in which individuals approach a predator while producing conspicuous vocalizations (Magrath et al. 2014). Mobbing is interesting to behavioral ecologists because of the complex array of costs of benefits. Costs range from the obvious risk of approaching a predator while drawing that predator's attention to the more mundane opportunity costs of taking time away from other activities, such as foraging. Benefits may involve driving the predator to leave, teaching relatives to recognize predators, signaling quality to conspecifics, or others. An added layer of complexity in this system comes from the inter-specific interactions that often occur among different mobbing species (Magrath et al. 2014).
This study by Salis et al. (2023) explored the responses of a local bird community to mobbing calls produced by individuals of two common mobbing species in European forests, coal tits, and crested tits. Not only did they compare responses to these two different species, they assessed the impact of the number of mobbing individuals on the stimulus recordings, and they did so at two very different times of the year with different social contexts for the birds involved, winter (non-breeding) and spring (breeding). The experiment was well-designed and highly powered, and the authors tested and confirmed an important assumption of their design, and thus the results are convincing. It is clear that members of the local bird community responded differently to the two different species, and this result raises interesting questions about why these species differed in their tendency to attract additional mobbers. For instance, are species that recruit more co-mobbers more effective at recruiting because they are more reliable in their mobbing behavior (Magrath et al. 2014), more likely to reciprocate (Krams and Krama, 2002), or for some other reason? Hopefully this system, now of proven utility thanks to the current study, will be useful for following up on hypotheses such as these. Other convincing results, such as the higher rate of mobbing response in winter than in spring, also merit following up with further work.
Finally, their observation that playback of vocalizations of multiple individuals often elicited a more mobbing response that the playback of vocalizations of a single individual are interesting and consistent with other recent work indicating that groups of mobbers recruit more additional mobbers than do single mobbers (Dutour et al. 2021). However, as acknowledged in the manuscript, the design of the current study did not allow a distinction between the effect of multiple individuals signaling versus an effect of a stronger stimulus. Thus, this last result leaves the question of the effect of mobbing group size in these species open to further study.
REFERENCES
Dutour M, Kalb N, Salis A, Randler C (2021) Number of callers may affect the response to conspecific mobbing calls in great tits (Parus major). Behavioral Ecology and Sociobiology, 75, 29. https://doi.org/10.1007/s00265-021-02969-7
Krams I, Krama T (2002) Interspecific reciprocity explains mobbing behaviour of the breeding chaffinches, Fringilla coelebs. Proceedings of the Royal Society of London. Series B: Biological Sciences, 269, 2345–2350. https://doi.org/10.1098/rspb.2002.2155
Magrath RD, Haff TM, Fallow PM, Radford AN (2015) Eavesdropping on heterospecific alarm calls: from mechanisms to consequences. Biological Reviews, 90, 560–586. https://doi.org/10.1111/brv.12122
Salis A, Lena JP, Lengagne T (2023) Acoustic cues and season affect mobbing responses in a bird community. bioRxiv, 2022.05.05.490715, ver. 5 peer-reviewed and recommended by Peer Community in Ecology. https://doi.org/10.1101/2022.05.05.490715
Review: 1
06 Oct 2020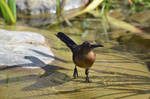 Implementing a rapid geographic range expansion - the role of behavior and habitat changes
The role of behavior and habitat availability on species geographic expansion
Recommended by Esther Sebastián González based on reviews by

Caroline Marie Jeanne Yvonne Nieberding

,

Pizza Ka Yee Chow

,

Tim Parker

and 1 anonymous reviewer
Understanding the relative importance of species-specific traits and environmental factors in modulating species distributions is an intriguing question in ecology [1]. Both behavioral flexibility (i.e., the ability to change the behavior in changing circumstances) and habitat availability are known to influence the ability of a species to expand its geographic range [2,3]. However, the role of each factor is context and species dependent and more information is needed to understand how these two factors interact. In this pre-registration, Logan et al. [4] explain how they will use Great-tailed grackles (Quiscalus mexicanus), a species with a flexible behavior and a rapid geographic range expansion, to evaluate the relative role of habitat and behavior as drivers of the species' expansion [4]. The authors present very clear hypotheses, predicted results and also include alternative predictions. The rationales for all the hypotheses are clearly stated, and the methodology (data and analyses plans) are described with detail. The large amount of information already collected by the authors for the studied species during previous projects warrants the success of this study. It is also remarkable that the authors will make all their data available in a public repository, and that the pre-registration in already stored in GitHub, supporting open access and reproducible science. I agree with the three reviewers of this pre-registration about its value and I think its quality has largely improved during the review process. Thus, I am happy to recommend it and I am looking forward to seeing the results.
References
[1] Gaston KJ. 2003. The structure and dynamics of geographic ranges. Oxford series in Ecology and Evolution. Oxford University Press, New York.
[2] Sol D, Lefebvre L. 2000. Behavioural flexibility predicts invasion success in birds introduced to new zealand. Oikos. 90(3): 599–605. https://doi.org/10.1034/j.1600-0706.2000.900317.x
[3] Hanski I, Gilpin M. 1991. Metapopulation dynamics: Brief history and conceptual domain. Biological journal of the Linnean Society. 42(1-2): 3–16. https://doi.org/10.1111/j.1095-8312.1991.tb00548.x
[4] Logan CJ, McCune KB, Chen N, Lukas D. 2020. Implementing a rapid geographic range expansion - the role of behavior and habitat changes (http://corinalogan.com/Preregistrations/gxpopbehaviorhabitat.html) In principle acceptance by PCI Ecology of the version on 16 Dec 2021 https://github.com/corinalogan/grackles/blob/0fb956040a34986902a384a1d8355de65010effd/Files/Preregistrations/gxpopbehaviorhabitat.Rmd.