JACOB Staffan
Station d'Ecologie Théorique et Expérimentale, CNRS, Moulis, France
Behaviour & Ethology, Community ecology, Competition, Dispersal & Migration, Eco-evolutionary dynamics, Evolutionary ecology, Experimental ecology, Freshwater ecology, Habitat selection, Landscape ecology, Maternal effects, Microbial ecology & microbiology, Phenotypic plasticity, Population ecology, Spatial ecology, Metacommunities & Metapopulations, Theoretical ecology, Thermal ecology
recommender
Recommendation:
1
Reviews:
0
Recommendation: 1
04 Sep 2019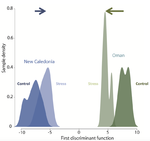 Gene expression plasticity and frontloading promote thermotolerance in Pocillopora corals
Transcriptomics of thermal stress response in corals
Recommended by Staffan Jacob based on reviews by

Mar Sobral
Climate change presents a challenge to many life forms and the resulting loss of biodiversity will critically depend on the ability of organisms to timely respond to a changing environment. Shifts in ecological parameters have repeatedly been attributed to global warming, with the effectiveness of these responses varying among species [1, 2]. Organisms do not only have to face a global increase in mean temperatures, but a complex interplay with another crucial but largely understudied aspect of climate change: thermal fluctuations. Understanding the mechanisms underlying adaptation to thermal fluctuations is thus a timely and critical challenge.
Coral reefs are among the most threaten ecosystems in the context of current global changes [3]. Brener-Raffalli and colleagues [4] provided a very complete study digging into the physiological, symbiont-based and transcriptomic mechanisms underlying response of corals to temperature changes. They used an experimental approach, following the heat stress response of coral colonies from different species of the genus Pocillopora. While the symbiont community composition did not significantly change facing exposure to warmer temperatures, the authors provided evidence for transcriptomic changes especially linked to stress response genes that may underlie plastic responses to heat stress.
The authors furthermore investigated the thermal stress response of corals originating from two sites differing in their natural thermal regimes, and found that they differ in the extent and nature of plastic response, including the expression of gene regulation factors and the basal expression level of some genes. These two sites also differ in a variety of aspects, including the focal coral species, which precludes from concluding about the role of thermal regime adaptation into the differences observed. However, these results still highlight a very interesting and important direction deserving further investigation [5], and point out the importance of variability in thermal stress response among localities [6] that might potentially mediate global warming consequences on coral reefs.
References
[1] Parmesan, C., & Yohe, G. (2003). A globally coherent fingerprint of climate change impacts across natural systems. Nature, 421(6918), 37–42. doi: 10.1038/nature01286
[2] Menzel, A., Sparks, T. H., Estrella, N., Koch, E., Aasa, A., Ahas, R., … Zust, A. (2006). European phenological response to climate change matches the warming pattern. Global Change Biology, 12(10), 1969–1976. doi: 10.1111/j.1365-2486.2006.01193.x
[3] Bellwood, D. R., Hughes, T. P., Folke, C., & Nyström, M. (2004). Confronting the coral reef crisis. Nature, 429(6994), 827–833. doi: 10.1038/nature02691
[4] Brener-Raffalli, K., Vidal-Dupiol, J., Adjeroud, M., Rey, O., Romans, P., Bonhomme, F., Pratlong, M., Haguenauer, A., Pillot, R., Feuillassier, L., Claereboudt, M., Magalon, H., Gélin, P., Pontarotti, P., Aurelle, D., Mitta, G. and Toulza, E. (2019). Gene expression plasticity and frontloading promote thermotolerance in Pocillopora corals. BioRxiv, 398602, ver 4 peer-reviewed and recommended by PCI Ecology. doi: 10.1101/398602
[5] Kenkel, Carly D., and Matz, M. V. (2017). Gene expression plasticity as a mechanism of coral adaptation to a variable environment. Nature Ecology and Evolution, 1(1), 0014. doi: 10.1038/s41559-016-0014
[6] Kenkel, C. D., Meyer, E., and Matz, M. V. (2013). Gene expression under chronic heat stress in populations of the mustard hill coral (Porites astreoides) from different thermal environments. Molecular Ecology, 22(16), 4322–4334. doi: 10.1111/mec.12390