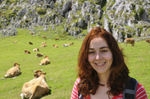 DESOTO Lucía
Estación Experimental de Zonas Áridas (EEZA), Consejo Superior de Investigaciones Científicas (CSIC), Almería, Spain
Botany, Climate change, Experimental ecology, Facilitation & Mutualism, Phenotypic plasticity, Population ecology
recommender
Recommendation:
1
Reviews:
0
Areas of expertise
Graduated in Biology (U. Oviedo, Spain 2002). PhD in forest ecology exploring the effect of global change on a Mediterranean juniper (U. Valladolid, Spain 2010). Postdoc about the drought response of vegetative and reproductive traits of Mediterranean dioecious trees at Centre for Functional Ecology (U. Coimbra). Visiting researcher at the Departament of Ecology and Evolution (U. Lausanne, Switzerland). I am a plant ecologist mainly interested in the study of the vegetative growth under different perspectives, for instance, reproductive costs, climate conditions, population dynamics and other ecological pressures that drive plant growth. This holistic approach has let me work in different research fields, such as dendrochronology, wood anatomy or spatial and image analyses.
Recommendation: 1
06 Jan 2021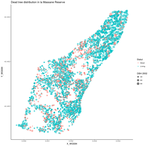 Comparing statistical and mechanistic models to identify the drivers of mortality within a rear-edge beech population
The complexity of predicting mortality in trees
Recommended by Lucía DeSoto based on reviews by

Lisa Hülsmann

and 2 anonymous reviewers
One of the main issues of forest ecosystems is rising tree mortality as a result of extreme weather events (Franklin et al., 1987). Eventually, tree mortality reduces forest biomass (Allen et al., 2010), although its effect on forest ecosystem fluxes seems not lasting too long (Anderegg et al., 2016). This controversy about the negative consequences of tree mortality is joined to the debate about the drivers triggering and the mechanisms accelerating tree decline. For instance, there is still room for discussion about carbon starvation or hydraulic failure determining the decay processes (Sevanto et al., 2014) or about the importance of mortality sources (Reichstein et al., 2013). Therefore, understanding and predicting tree mortality has become one of the challenges for forest ecologists in the last decade, doubling the rate of articles published on the topic (*). Although predicting the responses of ecosystems to environmental change based on the traits of species may seem a simplistic conception of ecosystem functioning (Sutherland et al., 2013), identifying those traits that are involved in the proneness of a tree to die would help to predict how forests will respond to climate threatens.
Modelling tree mortality is complex, involving multiple factors acting simultaneously at different scales, from tree genetics to ecosystem dynamics and from microsite conditions to global climatic events. Therefore, taking into account different approaches to reduce uncertainty of the predictions is needed (Bugmann et al., 2019). Petit-Cailleux et al. (2020) uses statistical and process-based models to detect the main mortality drivers of a drought- and frost-prone beech population. Particularly, they assessed the intra-individual characteristics of the population, that may play a decisive role explaining the differences in tree vulnerability to extreme weather events. Comparing the results of both analytical approaches, they find out several key factors, such as defoliation, leaf phenology and tree size, that were consistent between them. Even more, the process-based model showed the physiological mechanisms that may explain the individual vulnerability, for instance higher loss of hydraulic conductance may increase the mortality risk of trees with early budburst phenology and large stem diameter. The authors also successfully model annual mortality rate with a linear relationship including only three parameters: loss of conductance, biomass of reserves and late frost days.
This valuable study is a good example of the complexity in understanding and predicting tree mortality. The authors carried out the ambitious commitment of studying the inter-annual variation in mortality with 14-year dataset. However, it might be not enough time to control for the dependence of temporal data to soundly model mortality rate. The authors also acknowledge that the use of two approaches increases the knowledge from different perspectives, but at the same time comparing their results is difficult because the parameters used are not identical. Particularly, process-based models tend to consider the same microclimatic conditions for every tree in the population, and may produce inconsistences with statistical models. Alternatively, individual-based modelling might overcome some of the incompatibilities between the approaches (Zhu et al., 2019).
(*) Number (and percentage) of articles found in Web of Sciences after searching (December the 10th, 2020) "tree mortality": from 163 (0.006%) in 2010 to 412 (0.013%) in 2020.
References
Allen et al. (2010). A global overview of drought and heat-induced tree mortality reveals emerging climate change risks for forests. Forest ecology and management, 259(4), 660-684. doi: https://doi.org/10.1016/j.foreco.2009.09.001
Anderegg et al. (2016). When a tree dies in the forest: scaling climate-driven tree mortality to ecosystem water and carbon fluxes. Ecosystems, 19(6), 1133-1147. doi: https://doi.org/10.1007/s10021-016-9982-1
Bugmann et al. (2019). Tree mortality submodels drive simulated long‐term forest dynamics: assessing 15 models from the stand to global scale. Ecosphere, 10(2), e02616. doi: https://doi.org/10.1002/ecs2.2616
Franklin, J. F., Shugart, H. H. and Harmon, M. E. (1987) Death as an ecological process: the causes, consequences, and variability of tree mortality. BioScience, 37, 550–556. doi: https://doi.org/10.2307/1310665
Petit-Cailleux, C., Davi, H., Lefèvre, F., Garrigue, J., Magdalou, J.-A., Hurson, C., Magnanou, E. and Oddou-Muratorio, S. (2020) Comparing statistical and mechanistic models to identify the drivers of mortality within a rear-edge beech population. bioRxiv, 645747, ver 7 peer-reviewed and recommended by Peer Community in Ecology. https://doi.org/10.1101/645747
Reichstein et al. (2013). Climate extremes and the carbon cycle. Nature, 500(7462), 287-295. doi: https://doi.org/10.1038/nature12350
Sevanto, S., Mcdowell, N. G., Dickman, L. T., Pangle, R., and Pockman, W. T. (2014). How do trees die? A test of the hydraulic failure and carbon starvation hypotheses. Plant, cell & environment, 37(1), 153-161. doi: https://doi.org/10.1111/pce.12141
Sutherland et al. (2013). Identification of 100 fundamental ecological questions. Journal of ecology, 101(1), 58-67. doi: https://doi.org/10.1111/1365-2745.12025
Zhu, Y., Liu, Z., and Jin, G. (2019). Evaluating individual-based tree mortality modeling with temporal observation data collected from a large forest plot. Forest Ecology and Management, 450, 117496. doi: https://doi.org/10.1016/j.foreco.2019.117496