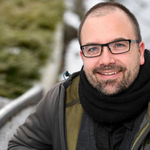 KALINKAT Gregor
Light Pollution and Ecophysiology Lab, Leibniz Institute of Freshwater Ecology and Inland Fisheries, Berlin, Germany
Allometry, Behaviour & Ethology, Biodiversity, Biological invasions, Conservation biology, Food webs, Freshwater ecology, Interaction networks, Theoretical ecology
recommender
Recommendation:
1
Reviews:
0
Recommendation: 1
12 Apr 2023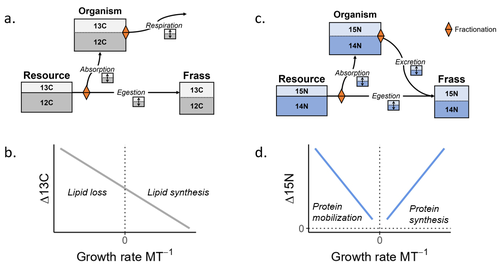 Feeding and growth variations affect δ13C and δ15N budgets during ontogeny in a lepidopteran larva
Refining our understanding how nutritional conditions affect 13C and 15N isotopic fractionation during ontogeny in a herbivorous insect
Recommended by Gregor Kalinkat based on reviews by

Anton Potapov

and 1 anonymous reviewer
Using stable isotope fractionation to disentangle and understand the trophic positions of animals within the food webs they are embedded within has a long tradition in ecology (Post, 2002; Scheu, 2002). Recent years have seen increasing application of the method with several recent reviews summarizing past advancements in this field (e.g. Potapov et al., 2019; Quinby et al., 2020).
In their new manuscript, Charberet and colleagues (2023) set out to refine our understanding of the processes that lead to nitrogen and carbon stable isotope fractionation by investigating how herbivorous insect larvae (specifically, the noctuid moth Spodoptera littoralis) respond to varying nutritional conditions (from starving to ad libitum feeding) in terms of stable isotopes enrichment. Though the underlying mechanisms have been experimentally investigated before in terrestrial invertebrates (e.g. in wolf spiders; Oelbermann & Scheu, 2002), the elegantly designed and adequately replicated experiments by Charberet and colleagues add new insights into this topic. Particularly, the authors provide support for the hypotheses that (A) 15N is disproportionately accumulated under fast growth rates (i.e. when fed ad libitum) and that (B) 13C is accumulated under low growth rates and starvation due to depletion of 13C-poor fat tissues. Applying this knowledge to field samples where feeding conditions are usually not known in detail is not straightforward, but the new findings could still help better interpretation of field data under specific conditions that make starvation for herbivores much more likely (e.g. droughts).
Overall this study provides important methodological advancements for a better understanding of plant-herbivore interactions in a changing world.
REFERENCES
Charberet, S., Maria, A., Siaussat, D., Gounand, I., & Mathieu, J. (2023). Feeding and growth variations affect δ13C and δ15N budgets during ontogeny in a lepidopteran larva. bioRxiv, ver. 3 peer-reviewed and recommended by Peer Community in Ecology. https://doi.org/10.1101/2022.11.09.515573
Oelbermann, K., & Scheu, S. (2002). Stable Isotope Enrichment (δ 15N and δ 13C) in a Generalist Predator (Pardosa lugubris, Araneae: Lycosidae): Effects of Prey Quality. Oecologia, 130(3), 337–344. https://doi.org/10.1007/s004420100813
Post, D. M. (2002). Using stable isotopes to estimate trophic position: Models, methods, and assumptions. Ecology, 83(3), 703–718. https://doi.org/10.1890/0012-9658(2002)083[0703:USITET]2.0.CO;2
Potapov, A. M., Tiunov, A. V., & Scheu, S. (2019). Uncovering trophic positions and food resources of soil animals using bulk natural stable isotope composition. Biological Reviews, 94(1), 37–59. https://doi.org/10.1111/brv.12434
Quinby, B. M., Creighton, J. C., & Flaherty, E. A. (2020). Stable isotope ecology in insects: A review. Ecological Entomology, 45(6), 1231–1246. https://doi.org/10.1111/een.12934
Scheu, S. (2002). The soil food web: Structure and perspectives. European Journal of Soil Biology, 38(1), 11–20. https://doi.org/10.1016/S1164-5563(01)01117-7