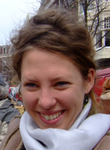 NIEBERDING Caroline Marie Jeanne Yvonne
Evolutionary Ecology and Genetics, Earth and Life Institute, University of Louvain-la-Neuve, Louvain-la-Neuve, Belgium
Behaviour & Ethology, Chemical ecology, Dispersal & Migration, Evolutionary ecology, Host-parasite interactions, Parasitology, Phenotypic plasticity, Phylogeny & Phylogeography, Zoology
recommender
Recommendations:
0
Review:
1
Areas of expertise
2001: Master in Biology at University of Liège (Belgium) 2005: PhD in Evolutionary Biology at the Institute of Science of Evolution at University of Montpellier (ISEM) and at the Centre for Management of Populations (CBGP) in Montpellier (France), together with the University of Liège (Belgium). Topic: Comparative phylogeography of a rodent and one of its nematode parasite. 2005-2008: Postdoctoral research in Evolutionary Ecology, at the Institute of Biology at Leiden University (the Netherlands). Topic: Role of male sex pheromone of the butterfly Bicyclus anynana in mate choice and sexual selection. Funded by a Marie Curie Intra-European Fellowship. Advisor: Paul Brakefield. From Sep 2008: Professor in Evolutionary Ecology at the University of Louvain-la-Neuve in Belgium. My research group is named "Evolutionary Ecology and Genetics" and I teach also from 2nd year Bachelor to 2nd year Master to students in Biology.
Review: 1
06 Oct 2020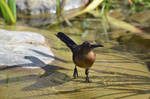 Implementing a rapid geographic range expansion - the role of behavior and habitat changes
The role of behavior and habitat availability on species geographic expansion
Recommended by Esther Sebastián González based on reviews by

Caroline Marie Jeanne Yvonne Nieberding

,

Pizza Ka Yee Chow

,

Tim Parker

and 1 anonymous reviewer
Understanding the relative importance of species-specific traits and environmental factors in modulating species distributions is an intriguing question in ecology [1]. Both behavioral flexibility (i.e., the ability to change the behavior in changing circumstances) and habitat availability are known to influence the ability of a species to expand its geographic range [2,3]. However, the role of each factor is context and species dependent and more information is needed to understand how these two factors interact. In this pre-registration, Logan et al. [4] explain how they will use Great-tailed grackles (Quiscalus mexicanus), a species with a flexible behavior and a rapid geographic range expansion, to evaluate the relative role of habitat and behavior as drivers of the species' expansion [4]. The authors present very clear hypotheses, predicted results and also include alternative predictions. The rationales for all the hypotheses are clearly stated, and the methodology (data and analyses plans) are described with detail. The large amount of information already collected by the authors for the studied species during previous projects warrants the success of this study. It is also remarkable that the authors will make all their data available in a public repository, and that the pre-registration in already stored in GitHub, supporting open access and reproducible science. I agree with the three reviewers of this pre-registration about its value and I think its quality has largely improved during the review process. Thus, I am happy to recommend it and I am looking forward to seeing the results.
References
[1] Gaston KJ. 2003. The structure and dynamics of geographic ranges. Oxford series in Ecology and Evolution. Oxford University Press, New York.
[2] Sol D, Lefebvre L. 2000. Behavioural flexibility predicts invasion success in birds introduced to new zealand. Oikos. 90(3): 599–605. https://doi.org/10.1034/j.1600-0706.2000.900317.x
[3] Hanski I, Gilpin M. 1991. Metapopulation dynamics: Brief history and conceptual domain. Biological journal of the Linnean Society. 42(1-2): 3–16. https://doi.org/10.1111/j.1095-8312.1991.tb00548.x
[4] Logan CJ, McCune KB, Chen N, Lukas D. 2020. Implementing a rapid geographic range expansion - the role of behavior and habitat changes (http://corinalogan.com/Preregistrations/gxpopbehaviorhabitat.html) In principle acceptance by PCI Ecology of the version on 16 Dec 2021 https://github.com/corinalogan/grackles/blob/0fb956040a34986902a384a1d8355de65010effd/Files/Preregistrations/gxpopbehaviorhabitat.Rmd.