KRUMINS Jennifer
Department of Biology, Montclair State University, Montclair, NJ, United States of America
Biodiversity, Community ecology, Ecological stoichiometry, Ecosystem functioning, Facilitation & Mutualism, Food webs, Herbivory, Human impact, Interaction networks, Microbial ecology & microbiology, Soil ecology
recommender
Recommendation:
1
Reviews:
0
Areas of expertise
Education University of Texas at Austin, History, BA 1993 Texas State University, San Marcos, TX, Biology, MS 1998 Rutgers University, New Brunswick, NJ, Ecology and Evolution, PhD 2007 Professional Appointments 2015-current Associate Professor – Montclair State University 2012-current Doctoral Faculty – Program in Environmental Management Montclair State University 2012-current Adjunct Doctoral Faculty – Rutgers New Brunswick Graduate Program in Ecology and Evolution 2010-15 Assistant Professor – Montclair State University 2009-10 Postdoctoral Fellow – The Netherlands Institute of Ecology
Recommendation: 1
17 Mar 2021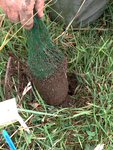 Intra and inter-annual climatic conditions have stronger effect than grazing intensity on root growth of permanent grasslands
Resolving herbivore influences under climate variability
Recommended by Jennifer Krumins based on reviews by 3 anonymous reviewers
We know that herbivory can have profound influences on plant communities with respect to their distribution and productivity (recently reviewed by Jia et al. 2018). However, the degree to which these effects are realized belowground in the rhizosphere is far less understood. Indeed, many independent studies and synthesis find that the environmental context can be more important than the direct effects of herbivore activity and its removal of plant biomass (Andriuzzi and Wall 2017, Schrama et al. 2013). In spite of dedicated attention, generalizable conclusions remain a bit elusive (Sitters and Venterink 2015). Picon-Cochard and colleagues (2021) help address this research conundrum in an elegant analysis that demonstrates the interaction between long-term cattle grazing and climatic variability on primary production aboveground and belowground.
Over the course of two years, Picon-Cochard et al. (2021) measured above and belowground net primary productivity in French grasslands that had been subject to ten years of managed cattle grazing. When they compared these data with climatic trends, they find an interesting interaction among grazing intensity and climatic factors influencing plant growth. In short, and as expected, plants allocate more resources to root growth in dry years and more to above ground biomass in wet and cooler years. However, this study reveals the degree to which this is affected by cattle grazing. Grazed grasslands support warmer and dryer soils creating feedback that further and significantly promotes root growth over green biomass production.
The implications of this work to understanding the capacity of grassland soils to store carbon is profound. This study addresses one brief moment in time of the long trajectory of this grazed ecosystem. The legacy of grazing does not appear to influence soil ecosystem functioning with respect to root growth except within the environmental context, in this case, climate. This supports the notion that long-term research in animal husbandry and grazing effects on landscapes is deeded. It is my hope that this study is one of many that can be used to synthesize many different data sets and build a deeper understanding of the long-term effects of grazing and herd management within the context of a changing climate. Herbivory has a profound influence upon ecosystem health and the distribution of plant communities (Speed and Austrheim 2017), global carbon storage (Chen and Frank 2020) and nutrient cycling (Sitters et al. 2020). The analysis and results presented by Picon-Cochard (2021) help to resolve the mechanisms that underly these complex effects and ultimately make projections for the future.
References
Andriuzzi WS, Wall DH. 2017. Responses of belowground communities to large aboveground herbivores: Meta‐analysis reveals biome‐dependent patterns and critical research gaps. Global Change Biology 23:3857-3868. doi: https://doi.org/10.1111/gcb.13675
Chen J, Frank DA. 2020. Herbivores stimulate respiration from labile and recalcitrant soil carbon pools in grasslands of Yellowstone National Park. Land Degradation & Development 31:2620-2634. doi: https://doi.org/10.1002/ldr.3656
Jia S, Wang X, Yuan Z, Lin F, Ye J, Hao Z, Luskin MS. 2018. Global signal of top-down control of terrestrial plant communities by herbivores. Proceedings of the National Academy of Sciences 115:6237-6242. doi: https://doi.org/10.1073/pnas.1707984115
Picon-Cochard C, Vassal N, Martin R, Herfurth D, Note P, Louault F. 2021. Intra and inter-annual climatic conditions have stronger effect than grazing intensity on root growth of permanent grasslands. bioRxiv, 2020.08.23.263137, version 6 peer-reviewed and recommended by PCI Ecology. doi: https://doi.org/10.1101/2020.08.23.263137
Schrama M, Veen GC, Bakker EL, Ruifrok JL, Bakker JP, Olff H. 2013. An integrated perspective to explain nitrogen mineralization in grazed ecosystems. Perspectives in Plant Ecology, Evolution and Systematics 15:32-44. doi: https://doi.org/10.1016/j.ppees.2012.12.001
Sitters J, Venterink HO. 2015. The need for a novel integrative theory on feedbacks between herbivores, plants and soil nutrient cycling. Plant and Soil 396:421-426. doi: https://doi.org/10.1007/s11104-015-2679-y
Sitters J, Wubs EJ, Bakker ES, Crowther TW, Adler PB, Bagchi S, Bakker JD, Biederman L, Borer ET, Cleland EE. 2020. Nutrient availability controls the impact of mammalian herbivores on soil carbon and nitrogen pools in grasslands. Global Change Biology 26:2060-2071. doi: https://doi.org/10.1111/gcb.15023
Speed JD, Austrheim G. 2017. The importance of herbivore density and management as determinants of the distribution of rare plant species. Biological Conservation 205:77-84. doi: https://doi.org/10.1016/j.biocon.2016.11.030