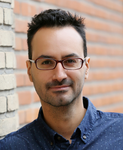 PEÑA Jorge
Institute for Advanced Study in Toulouse (IAST), University of Toulouse 1 Capitole, Toulouse, France
Behaviour & Ethology, Evolutionary ecology, Theoretical ecology
recommender
Recommendation:
1
Reviews:
0
Recommendation: 1
25 Nov 2022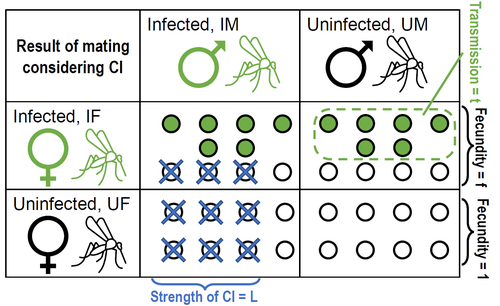 Positive fitness effects help explain the broad range of Wolbachia prevalences in natural populations
Population dynamics of Wolbachia symbionts playing Dr. Jekyll and Mr. Hyde
Recommended by Jorge Peña based on reviews by 3 anonymous reviewers
"Good and evil are so close as to be chained together in the soul"
Robert Louis Stevenson, Dr. Jekyll and Mr. Hyde
---
Maternally inherited symbionts—microorganisms that pass from a female host to her progeny—have two main ways of increasing their own fitness. First, they can increase the fecundity or viability of infected females. This "positive fitness effects" strategy is the one commonly used by mutualistic symbionts, such as Buchnera aphidicola—the bacterial endosymbiont of the pea aphid, Acyrthosiphon pisum [4]. Second, maternally inherited symbionts can manipulate the reproduction of infected females in a way that enhances symbiont transmission at the expense of host fitness. A famous example of this "reproductive parasitism" strategy is the cytoplasmic incompatibility (CI) [3] induced by bacteria of the genus Wolbachia in their arthropod and nematode hosts. CI works as a toxin-antidote system, whereby the sperm of infected males is modified in a lethal way (toxin) that can only be reverted if the egg is also infected (antidote) [1]. As a result, CI imposes a kind of conditional sterility on their hosts: while infected females are compatible with both infected and uninfected males, uninfected females experience high offspring mortality if (and only if) they mate with infected males [7].
These two symbiont strategies (positive fitness effects versus reproductive parasitism) have been traditionally studied separately, both empirically and theoretically. However, it has become clear that the two strategies are not mutually exclusive, and that a reproductive parasite can simultaneously act as a mutualist—an infection type that has been dubbed "Jekyll and Hyde" [6], after the famous novella by Robert Louis Stevenson about kind scientist Dr. Jekyll and his evil alter ego, Mr. Hyde. In important previous work, Zug and Hammerstein [7] analyzed the consequences of positive fitness effects on the dynamics of different kind of infections, including "Jekyll and Hyde" infections characterized by CI and other reproductive parasitism strategies. Building on this and related modeling framework, Karisto et al. [2] re-investigate and expand on the interplay between positive fitness effects and reproductive parasitism in Wolbachia infections by focusing on CI in both diplodiploid and haplodiploid populations, and by paying particular attention to the mathematical assumption structure underlying their results.
Karisto et al. begin by reviewing classic models of Wolbachia infections in diplodiploid populations that assume a "negative fitness effect" (modeled as a fertility penalty on infected females), characteristic of a pure strategy of reproductive parasitism. Together with the positive frequency-dependent effects due to CI (whereby the fitness benefits to symbionts infecting females increase with the proportion of infected males in the population) this results in population dynamics characterized by two stable equilibria (the Wolbachia-free state and an interior equilibrium with a high frequency of Wolbachia-carrying hosts) separated by an unstable interior equilibrium. Wolbachia can then spread once the initial frequency is above a threshold or an invasion barrier, but is prevented from fixing by a proportion of infections failing to be passed on to offspring. Karisto et al. show that, given the assumption of negative fitness effects, the stable interior equilibrium can never feature a Wolbachia prevalence below one-half. Moreover, they convincingly argue that a prevalence greater than but close to one-half is difficult to maintain in the presence of stochastic fluctuations, as in these cases the high-prevalence stable equilibrium would be too close to the unstable equilibrium signposting the invasion barrier.
Karisto et al. then relax the assumption of negative fitness effects and allow for positive fitness effects (modeled as a fertility premium on infected females) in a diplodiploid population. They show that positive fitness effects may result in situations where the original invasion threshold is now absent, the bistable coexistence dynamics are transformed into purely co-existence dynamics, and Wolbachia symbionts can now invade when rare. Karisto et al. conclude that positive fitness effects provide a plausible and potentially testable explanation for the low frequencies of symbiont-carrying hosts that are sometimes observed in nature, which are difficult to reconcile with the assumption of negative fitness effects.
Finally, Karisto et al. extend their analysis to haplodiploid host populations (where all fertilized eggs develop as females). Here, they investigate two types of cytoplasmic incompatibility: a female-killing effect, similar to the CI effect studied in diplodiploid populations (the "Leptopilina type" of Vavre et al. [5]) and a masculinization effect, where CI leads to the loss of paternal chromosomes and to the development of the offspring as a male (the "Nasonia type" of Vavre et al. [5]). The models are now two-sex, which precludes a complete analytical treatment, in particular regarding the stability of fixed points. Karisto et al. compensate by conducting large numerical analyses that support their claims. Importantly, all main conclusions regarding the interplay between positive fitness effects and reproductive parasitism continue to hold under haplodiploidy.
All in all, the analysis and results by Karisto et al. suggest that it is not necessary to resort to classical (but depending on the situation, unlikely) mechanisms, such as ongoing invasion or source-sink dynamics, to explain arthropod populations featuring low-prevalent Wolbachia infections. Instead, low-frequency equilibria might be simply due to reproductive parasites conferring beneficial fitness effects, or Wolbachia symbionts playing Dr. Jekyll (positive fitness effects) and Mr. Hyde (cytoplasmatic incompatibility).
References
[1] Beckmann JF, Bonneau M, Chen H, Hochstrasser M, Poinsot D, Merçot H, Weill M, Sicard M, Charlat S (2019) The Toxin–Antidote Model of Cytoplasmic Incompatibility: Genetics and Evolutionary Implications. Trends in Genetics, 35, 175–185. https://doi.org/10.1016/j.tig.2018.12.004
[2] Karisto P, Duplouy A, Vries C de, Kokko H (2022) Positive fitness effects help explain the broad range of Wolbachia prevalences in natural populations. bioRxiv, 2022.04.11.487824, ver. 5 peer-reviewed and recommended by Peer Community in Ecology. https://doi.org/10.1101/2022.04.11.487824
[3] Laven H (1956) Cytoplasmic Inheritance in Culex. Nature, 177, 141–142. https://doi.org/10.1038/177141a0
[4] Perreau J, Zhang B, Maeda GP, Kirkpatrick M, Moran NA (2021) Strong within-host selection in a maternally inherited obligate symbiont: Buchnera and aphids. Proceedings of the National Academy of Sciences, 118, e2102467118. https://doi.org/10.1073/pnas.2102467118
[5] Vavre F, Fleury F, Varaldi J, Fouillet P, Bouletreau M (2000) Evidence for Female Mortality in Wolbachia-Mediated Cytoplasmic Incompatibility in Haplodiploid Insects: Epidemiologic and Evolutionary Consequences. Evolution, 54, 191–200. https://doi.org/10.1111/j.0014-3820.2000.tb00019.x
[6] Zug R, Hammerstein P (2015) Bad guys turned nice? A critical assessment of Wolbachia mutualisms in arthropod hosts. Biological Reviews, 90, 89–111. https://doi.org/10.1111/brv.12098
[7] Zug R, Hammerstein P (2018) Evolution of reproductive parasites with direct fitness benefits. Heredity, 120, 266–281. https://doi.org/10.1038/s41437-017-0022-5