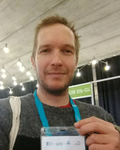 CAPLAT Paul
School of Biological Sciences, Queen's University Belfast, Belfast, United Kingdom
Agroecology, Biological invasions, Colonization, Conservation biology, Demography, Dispersal & Migration, Ecological successions, Habitat selection, Landscape ecology, Macroecology, Population ecology, Species distributions, Statistical ecology, Terrestrial ecology
recommender
Recommendations:
2
Reviews:
0
Areas of expertise
PhD, SupAgro Montpellier 2006 Postdoctoral experience University of Guelph (2006-2008), University of Queensland (2009-2011) Research position Lund University (2012-present) Lecturer, Queen's University (2016-present)
Recommendations: 2
29 May 2023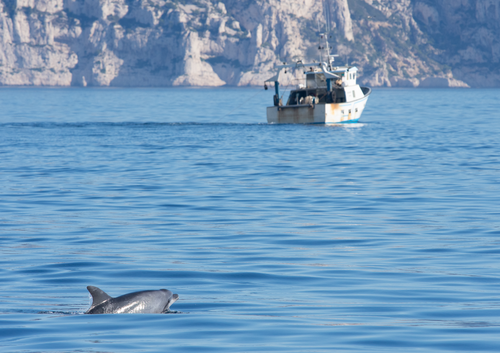 Using integrated multispecies occupancy models to map co-occurrence between bottlenose dolphins and fisheries in the Gulf of Lion, French Mediterranean Sea
Mapping co-occurence of human activities and wildlife from multiple data sources
Recommended by Paul Caplat based on reviews by

Mason Fidino

and 1 anonymous reviewer
Two fields of research have grown considerably over the past twenty years: the investigation of human-wildlife conflicts (e.g. see Treves & Santiago-Ávila 2020), and multispecies occupancy modelling (Devarajan et al. 2020). In their recent study, Lauret et al. (2023) combined both in an elegant methodological framework, applied to the study of the co-occurrence of fishing activities and bottlenose dolphins in the French Mediterranean.
A common issue with human-wildlife conflicts (and, in particular, fishery by-catch) is that data is often only available from those conflicts or interactions, limiting the validity of the predictions (Kuiper et al. 2022). Lauret et al. use independent data sources informing the occurrence of fishing vessels and dolphins, combined in a Bayesian multispecies occupancy model where vessels are "the other species". I particularly enjoyed that approach, as integration of human activities in ecological models can be extremely complex, but can also translate in phenomena that can be captured as one would of individuals of a species, as long as the assumptions are made clearly. Here, the model is made more interesting by accounting for environmental factors (seabed depth) borrowing an approach from Generalized Additive Models in the Bayesian framework. While not pretending to provide (yet) practical recommendations to help conserve bottlenose dolphins (and other wildlife conflicts), this study and the associated code are a promising step in that direction.
REFERENCES
Devarajan, K., Morelli, T.L. & Tenan, S. (2020), Multi-species occupancy models: review, roadmap, and recommendations. Ecography, 43: 1612-1624. https://doi.org/10.1111/ecog.04957
Kuiper, T., Loveridge, A.J. and Macdonald, D.W. (2022), Robust mapping of human–wildlife conflict: controlling for livestock distribution in carnivore depredation models. Anim. Conserv., 25: 195-207. https://doi.org/10.1111/acv.12730
Lauret V, Labach H, David L, Authier M, & Gimenez O (2023) Using integrated multispecies occupancy models to map co-occurrence between bottlenose dolphins and fisheries in the Gulf of Lion, French Mediterranean Sea. Ecoevoarxiv, ver. 2 peer-reviewed and recommended by PCI Ecology. https://doi.org/10.32942/osf.io/npd6u
Treves, A. & Santiago-Ávila, F.J. (2020). Myths and assumptions about human-wildlife conflict and coexistence. Conserv. Biol. 34, 811–818. https://doi.org/10.1111/cobi.13472
05 Apr 2019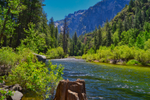 Using a large-scale biodiversity monitoring dataset to test the effectiveness of protected areas at conserving North-American breeding birds
Protected Areas effects on biodiversity: a test using bird data that hopefully will give ideas for much more studies to come
Recommended by Paul Caplat based on reviews by

Willson Gaul

and 1 anonymous reviewer
In the face of worldwide declines in biodiversity, evaluating the effectiveness of conservation practices is an absolute necessity. Protected Areas (PA) are a key tool for conservation, and the question "Are PA effective" has been on many a research agenda, as the introduction to this preprint will no doubt convince you. A challenge we face is that, until now, few studies have been explicitly designed to evaluate PA, and despite the rise of meta-analyses on the topic, our capacity to quantify their effect on biodiversity remains limited.
This study by Cazalis et al. [1] uses the rich dataset of the North-American Breeding Bird Survey and a sound paired design to investigate how PA change bird assemblages. The methodological care brought to the study in itself is worth the read, and the results are insightful. I will not spoil too much by revealing here that things are "complicated", and that effects – or lack thereof – depend on the type of ecosystem, and the type of species considered.
If you are interested in conservation, bird communities, species life-history, or like beautiful plots: go and read it.
References
[1] Cazalis, V., Belghali, S., & Rodrigues, A. S. (2019). Using a large-scale biodiversity monitoring dataset to test the effectiveness of protected areas at conserving North-American breeding birds. bioRxiv, 433037, ver. 4 peer-reviewed and recommended by PCI Ecology. doi: 10.1101/433037