VERHULST Niels
National Centre for Vector Entomology, Institute of Parasitology, University of Zurich, Zurich, Switzerland
Behaviour & Ethology, Chemical ecology
recommender
Recommendation:
1
Reviews:
0
Areas of expertise
I am an entomologist specialised in vector-borne diseases. Specialties: Behavioural bioassays, field work (Congo,Kenya, Burkina Faso,Costa Rica, Peru The Netherlands), statistical analysis (GLM, multivariate analysis, etc.) odour analysis, microbiology, working with volunteers and insect rearing
Recommendation: 1
12 Jan 2022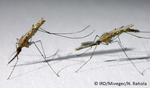 No Evidence for Long-range Male Sex Pheromones in Two Malaria Mosquitoes
The search for sex pheromones in malaria mosquitoes
Recommended by Niels Verhulst based on reviews by

Marcelo Lorenzo

and 1 anonymous reviewer
Pheromones are used by many insects to find the opposite sex for mating. Especially for nocturnal mosquitoes it seems logical that such pheromones exist as they can only partly rely on visual cues when flying at night. The males of many mosquito species form swarms and conspecific females fly into these swarms to mate. The two sibling species of malaria mosquitoes Anopheles gambiae s.s. and An. coluzzii coexist and both form swarms consisting of only one species. Although hybrids can be produced, these hybrids are rarely found in nature. In the study presented by Poda and colleagues (2022) it was tested if long-range sex pheromones exist in these two mosquito sibling species.
In a previous study by Mozūraites et al. (2020), five compounds (acetoin, sulcatone, octanal, nonanal and decanal) were identified that induced male swarming and increase mating success. Interestingly these compounds are frequently found in nature and have been shown to play a role in sugar feeding or host finding of An. gambiae. In the recommended study performed by Poda et al. (2022) no evidence of long-range sex pheromones in A. gambiae s.s. and An. coluzzii was found. The discrepancy between the two studies is difficult to explain but some of the methods varied between studies. Mozūraites et al. (2020) for example, collected odours from mosquitoes in small 1l glass bottles, where swarming is questionable, while in the study of Poda et al. (2022) 50 x 40 x 40 cm cages were used and swarming observed, although most swarms are normally larger. On the other hand, some of the analytical techniques used in the Mozūraites et al. (2020) study were more sensitive while others were more sensitive in the Poda et al. (2022) study. Because it is difficult to prove that something does not exist, the authors nicely indicate that "an absence of evidence is not an evidence of absence" (Poda et al., 2022). Nevertheless, recently colonized species were tested in large cage setups where swarming was observed and various methods were used to try to detect sex pheromones. No attraction to the volatile blend from male swarms was detected in an olfactometer, no antenna-electrophysiological response of females to male swarm volatile compounds was detected and no specific male swarm volatile was identified.
This study will open the discussion again if (sex) pheromones play a role in swarming and mating of malaria mosquitoes. Future studies should focus on sensitive real-time volatile analysis in mating swarms in large cages or field settings. In comparison to moths for example that are very sensitive to very specific pheromones and attract from a large distance, such a long-range specific pheromone does not seem to exist in these mosquito species. Acoustic and visual cues have been shown to be involved in mating (Diabate et al., 2003; Gibson and Russell, 2006) and especially at long distances, visual cues are probably important for the detection of these swarms.
References
Diabate A, Baldet T, Brengues C, Kengne P, Dabire KR, Simard F, Chandre F, Hougard JM, Hemingway J, Ouedraogo JB, Fontenille D (2003) Natural swarming behaviour of the molecular M form of Anopheles gambiae. Transactions of The Royal Society of Tropical Medicine and Hygiene, 97, 713–716. https://doi.org/10.1016/S0035-9203(03)80110-4
Gibson G, Russell I (2006) Flying in Tune: Sexual Recognition in Mosquitoes. Current Biology, 16, 1311–1316. https://doi.org/10.1016/j.cub.2006.05.053
Mozūraitis, R., Hajkazemian, M., Zawada, J.W., Szymczak, J., Pålsson, K., Sekar, V., Biryukova, I., Friedländer, M.R., Koekemoer, L.L., Baird, J.K., Borg-Karlson, A.-K., Emami, S.N. (2020) Male swarming aggregation pheromones increase female attraction and mating success among multiple African malaria vector mosquito species. Nature Ecology & Evolution, 4, 1395–1401. https://doi.org/10.1038/s41559-020-1264-9
Poda, S.B., Buatois, B., Lapeyre, B., Dormont, L., Diabate, A., Gnankine, O., Dabire, R.K., Roux, O. (2022) No evidence for long-range male sex pheromones in two malaria mosquitoes. bioRxiv, 2020.07.05.187542, ver. 6 peer-reviewed and recommended by Peer Community in Ecology. https://doi.org/10.1101/2020.07.05.187542