BELTRAN-BECH Sophie
Ecologie et Biologie des Interactions UMR CNRS 7267, Université de Poitiers UFR SFA, Poitiers, France
Behaviour & Ethology, Evolutionary ecology, Experimental ecology, Host-parasite interactions, Life history, Molecular ecology, Parasitology, Population ecology, Social structure, Symbiosis, Terrestrial ecology
recommender
Recommendation:
1
Reviews:
0
Areas of expertise
After a Master's degree in Biology, Evolution and Environment (University of Montpellier II), then a Master's degree in Sociology (University of Perpignan), I passed a PhD in Biology (University of Perpignan), at the Laboratory of Tropical and Mediterranean Biology and Ecology (BETM UMR 5244 CNRS-EPHE-UPVD). My research has developed on mate choice and mating strategies in a monogamous parasite, Schistosoma mansoni. I was able to analyze the different facets of monogamy and to test the presence of multiple mating using the molecular tool. Equipped with skills in evolutionary concepts, behavioural ecology, statistical and molecular tools, I was recruited in 2010, during my year of ATER, at the University of Poitiers as an assistant professor. Since being recruited, I have taken on many collective responsibilities in teaching and research and had the opportunity to develop my research project on the causes and consequences of genetic diversity. If I have been interested for a long time in mating systems in this context, today I am developing a project on senescence.
Recommendation: 1
29 Nov 2019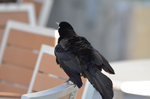 Investigating sex differences in genetic relatedness in great-tailed grackles in Tempe, Arizona to infer potential sex biases in dispersal
Investigate fine scale sex dispersal with spatial and genetic analyses
Recommended by Sophie Beltran-Bech based on reviews by

Sylvine Durand

and 1 anonymous reviewer
The preregistration "Investigating sex differences in genetic relatedness in great-tailed grackles in Tempe, Arizona to infer potential sex biases in dispersal" [1] presents the analysis plan that will be used to genetically and spatially investigate sex-biased dispersal in great-tailed grackles (Quiscalus mexicanus).
Several hypotheses implying mating systems, intrasexual competition or sex-related handicaps have been proposed to explain the diversity of dispersal patterns between or within species according to their ecological requirements, environmental factors such as seasonality [2], or individual characteristics such as age [3] or sex [4].
In birds, females are classically the dispersing sex, while males remain close to the place they were hatched [5], with potential benefits that males derive from knowing the local environment to establish territories [6].
In great-tailed grackles the males hold territories and the females choose which territory to place their nest in [7]. In this context, the main hypothesis is that females are the dispersing sex in this species. The authors of this preregistration plan to investigate this hypothesis and its 3 alternatives ((i) the males are the dispersing sex, (ii) both sexes disperse or (iii) neither of the two sexes disperse), investigating the spatial distribution of genetic relatives.
The authors plan to measure the genetic relatedness (using SNP markers) and geographic distances among all female dyads and among all male dyads in the fine geographic scale (Tempe campus, Arizona). If females disperse away from relatives, the females will be less likely to be found geographically close to genetic relatives.
This pre-registration shows that the authors are well aware of the possible limitations of their study, particularly in relation to their population of 57 individuals, on a small scale. But they will use methods that should be able to detect a signal. They were very good at incorporating the reviewers' comments and suggestions, which enabled them to produce a satisfactory and interesting version of the manuscript presenting their hypotheses, limitations and the methods they plan to use. Another point I would like to stress is that this pre-registration practice is a very good one that makes it possible to anticipate the challenges and the type of analyses to be carried out, in particular by setting out the working hypotheses and confronting them (as well as the methods envisaged) with peers from this stage. I therefore recommend this manuscript and thank all the contributors (authors and reviewers) for their work. I look forward to seeing the outcomes of this study.
References
[1] Sevchik A., Logan C. J., Folsom M., Bergeron L., Blackwell A., Rowney C., and Lukas D. (2019). Investigating sex differences in genetic relatedness in great-tailed grackles in Tempe, Arizona to infer potential sex biases in dispersal. In principle recommendation by Peer Community In Ecology. corinalogan.com/Preregistrations/gdispersal.html
[2] Fies, M. L., Puckett, K. M., and Larson-Brogdon, B. (2002). Breeding season movements and dispersal of Northern Bobwhites in fragmented habitats of Virginia. Vol. 5 , Article 35. Available at: trace.tennessee.edu/nqsp/vol5/iss1/35
[3] Marvá, M., and San Segundo, F. (2018). Age-structure density-dependent fertility and individuals dispersal in a population model. Mathematical biosciences, 300, 157-167. doi: 10.1016/j.mbs.2018.03.029
[4] Trochet, A., Courtois, E. A., Stevens, V. M., Baguette, M., Chaine, A., Schmeller, D. S., Clobert, J., and Wiens, J. J. (2016). Evolution of sex-biased dispersal. The Quarterly Review of Biology, 91(3), 297-320. doi: 10.1086/688097
[5] Greenwood, P. J., and Harvey, P. H. (1982). The natal and breeding dispersal of birds. Annual review of ecology and systematics, 13(1), 1-21. doi: 10.1146/annurev.es.13.110182.000245
[6] Greenwood, P. J. (1980). Mating systems, philopatry and dispersal in birds and mammals. Animal behaviour, 28(4), 1140-1162. doi: 10.1016/S0003-3472(80)80103-5
[7] Johnson, K., DuVal, E., Kielt, M., and Hughes, C. (2000). Male mating strategies and the mating system of great-tailed grackles. Behavioral Ecology, 11(2), 132-141. doi: 10.1093/beheco/11.2.132