ROCHE Benjamin
UMI UMMISCO and UMR MIVEGEC, IRD, Ciudad de Mexico, Mexico
Biodiversity, Biological control, Biological invasions, Community ecology, Eco-evolutionary dynamics, Eco-immunology & Immunity, Epidemiology, Evolutionary ecology, Host-parasite interactions, Interaction networks, Meta-analyses, Microbial ecology & microbiology, Phylogeny & Phylogeography, Population ecology, Statistical ecology, Theoretical ecology
recommender
Recommendation:
1
Reviews:
0
Areas of expertise
Engineer degree in computing sciences Master in Biomathematics PhD in Evolutionary ecology Habilitation in Medicine and Public Health
Recommendation: 1
12 Jun 2019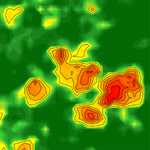 Environmental heterogeneity drives tsetse fly population dynamics and control
Modeling jointly landscape complexity and environmental heterogeneity to envision new strategies for tsetse flies control
Recommended by Benjamin Roche based on reviews by

Timothée Vergne

and 1 anonymous reviewer
Today, understanding spatio-temporal dynamics of pathogens is pivotal to understand their transmission and controlling them. First, understanding this dynamics can reveal the ecology of their transmission [1]. Indeed, such knowledge, based on data that are quite easy to access, can shed light on transmission modes, which could rely on different animal species that can be spatially distributed in a non-uniform way [2]. This is especially true for pathogens with complex life-cycles, despite that investigating such dynamics is very challenging and rely mostly on mathematical models.
Moreover, this knowledge can also highlight some weak points in a complex web of transmission and therefore allowing us to envision new innovative control strategies. This has been first proposed on human pathogens, where connectivity among populations can be analyzed to identify which connections need to be targeted to stop or slow down an epidemics [3]. However, this idea is increasingly recognized as a promising new approach for pathogens involving vector populations, especially regarding the complexity to decrease on a long-term the abundance of these vector populations [4].
In "Environmental heterogeneity drives tsetse fly population dynamics and control" [5], Cecilia and co-authors have developed a sophisticated spatio-temporal mechanistic model to figure out how local environment, involved within landscape of different complexities, can impact the population dynamics of tsetse flies, an invertebrate species that can serve as a vector for many pathogens of animal and human importance. They found that spatial patches with the lowest temperature mean and the lowest environmental fluctuations can act as refuge for this species, representing therefore preferential targets for disease control.
The reviewers and I agree that the mathematical framework developed address very well an important topic for both ecological and public health literature. More importantly, it shows how fundamental ecological knowledge can drive pathogen control strategies, opening an interesting avenue for cross-disciplinary research on vector-borne diseases.
References
[1] Grenfell, B. T., Bjørnstad, O. N., & Kappey, J. (2001). Travelling waves and spatial hierarchies in measles epidemics. Nature, 414(6865), 716-723. doi: 10.1038/414716a
[2] Perkins, S. E., Cattadori, I. M., Tagliapietra, V., Rizzoli, A. P., & Hudson, P. J. (2003). Empirical evidence for key hosts in persistence of a tick-borne disease. International journal for parasitology, 33(9), 909-917. doi: 10.1016/S0020-7519(03)00128-0
[3] Colizza, V., Barrat, A., Barthélemy, M., & Vespignani, A. (2006). The role of the airline transportation network in the prediction and predictability of global epidemics. Proceedings of the National Academy of Sciences, 103(7), 2015-2020. doi: 10.1073/pnas.0510525103
[4] Pepin, K. M., Leach, C. B., Marques-Toledo, C., Laass, K. H., Paixao, K. S., et al. (2015) Utility of mosquito surveillance data for spatial prioritization of vector control against dengue viruses in three Brazilian cities. Parasites & Vectors 8, 1–15. doi: 10.1186/s13071-015-0659-y
[5] Cecilia, H., Arnoux, S., Picault, S., Dicko, A., Seck, M. T., Sall, B., Bassène, M., Vreysen, M., Pagabeleguem, S., Bancé, A., Bouyer, J. and Ezanno, P.(2019). Environmental heterogeneity drives tsetse fly population dynamics and control. bioRxiv 493650, ver. 3 peer-reviewed and recommended by PCI Ecology. doi: 10.1101/493650