SAPPINGTON Thomas Wilson
Corn Insects and Crop Genetics Research Unit, USDA-Agricultural Research Service, Ames, United States of America
Agroecology, Behaviour & Ethology, Biological invasions, Colonization, Dispersal & Migration, Eco-evolutionary dynamics, Evolutionary ecology, Experimental ecology, Life history, Molecular ecology, Population ecology, Terrestrial ecology
recommender
Recommendation:
1
Reviews:
0
Areas of expertise
B.S. Biology (minor Chemistry), 1979, Univ. of Central Missouri M.S. Entomology, 1982, Iowa State Univ., Ecology and behavior, European corn borer PhD Systematics and Ecology, 1989, Univ. of Kansas, Sexual selection, Colias butterflies Postdoc Entomology, 1989-1992, Iowa State Univ., Migratory flight behavior, black cutworm (Noctuidae) Postdoc Entomology, 1992-1996, Michigan State Univ., Molecular biology mosquito egg development Visiting Assistant Professor, Entomology, 1996-1998, Michigan State Univ., Molecular biology mosquito egg development Research Entomologist and Lead Scientist, 1998-2003, USDA-ARS, Weslaco, Texas; Cotton insect ecology and behavior Research Entomologist, 2003-present, USDA-ARS, Ames, Iowa; Corn insect ecology, behavior, and population genetics
Recommendation: 1
16 Sep 2019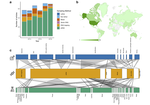 Blood, sweat and tears: a review of non-invasive DNA sampling
Words matter: extensive misapplication of "non-invasive" in describing DNA sampling methods, and proposed clarifying terms
Recommended by Thomas Wilson Sappington based on reviews by 2 anonymous reviewers
The ability to successfully sequence trace quantities of environmental DNA (eDNA) has provided unprecedented opportunities to use genetic analyses to elucidate animal ecology, behavior, and population structure without affecting the behavior, fitness, or welfare of the animal sampled. Hair associated with an animal track in the snow, the shed exoskeleton of an insect, or a swab of animal scat are all examples of non-invasive methods to collect eDNA. Despite the seemingly uncomplicated definition of "non-invasive" as proposed by Taberlet et al. [1], Lefort et al. [2] highlight that its appropriate application to sampling methods in practice is not so straightforward. For example, collecting scat left behind on the forest floor by a mammal could be invasive if feces is used by that species to mark territorial boundaries. Other collection strategies such as baited DNA traps to collect hair, capturing and handling an individual to swab or stimulate emission of a body fluid, or removal of a presumed non essential body part like a feather, fish scale, or even a leg from an insect are often described as "non-invasive" sampling methods. However, such methods cannot be considered truly non-invasive. At a minimum, attracting or capturing and handling an animal to obtain a DNA sample interrupts its normal behavioral routine, but additionally can cause both acute and long-lasting physiological and behavioral stress responses and other effects. Even invertebrates exhibit long-term hypersensitization after an injury, which manifests as heightened vigilance and enhanced escape responses [3-5].
Through an extensive analysis of 380 papers published from 2013-2018, Lefort et al. [2] document the widespread misapplication of the term "non-invasive" to methods used to sample DNA. An astonishing 58% of these papers employed the term incorrectly. A big part of the problem is that "non-invasive" is usually used by authors in the medical or veterinary sense of not breaking the skin or entering the body [6], rather than in the broader, ecological sense of Taberlet et al. [1]. The authors argue that correct use of the term matters, because it may lead naive readers – one can imagine students, policy makers, and the general public – to incorrectly assume a particular method is safe to use in a situation where disturbing the animal could affect experimental results or raise animal welfare concerns. Such assumptions can affect experimental design, as well as interpretations of one's own or others' data.
The importance of the Lefort et al. [2] paper lies in part on the authors' call for the research community to be much more careful when applying the term "non-invasive" to methods of DNA sampling. This call cannot be shrugged off as a minor problem in a few papers – as their literature review demonstrates, "non-invasive" is being applied incorrectly more often than not. The authors recognize that not all DNA sampling must be non-invasive to be useful or ethical. Examples include taking samples for DNA extraction from museum specimens, or opportunistically from carcasses of animals hunted either legally or seized by authorities from poachers. In many cases, there may be no viable non-invasive method to obtain DNA, but a researcher strives to collect samples using methods that, although they may involve taking a sample directly from the animal's body, do not disrupt, or only slightly disrupt behavior, fitness, or welfare of the animal. Thus, the other important contribution by Lefort et al. [2] is to propose the terms "non-disruptive" and "minimally-disruptive" to describe such sampling methods, which are not strictly non-invasive. While gray areas undoubtedly remain, as acknowledged by the authors, answering the call for correct use of "non-invasive" and applying the proposed new terms for certain types of invasive sampling with a focus on level of disruption, will go a long way in limiting misconceptions and misinterpretations caused by the current confusion in terminology.
References
[1] Taberlet P., Waits L. P. and Luikart G. 1999. Noninvasive genetic sampling: look before you leap. Trends Ecol. Evol. 14: 323-327. doi: 10.1016/S0169-5347(99)01637-7
[2] Lefort M.-C., Cruickshank R. H., Descovich K., Adams N. J., Barun A., Emami-Khoyi A., Ridden J., Smith V. R., Sprague R., Waterhouse B. R. and Boyer S. 2019. Blood, sweat and tears: a review of non-invasive DNA sampling. bioRxiv, 385120, ver. 4 peer-reviewed and recommended by PCI Ecology. doi: 10.1101/385120
[3] Khuong T. M., Wang Q.-P., Manion J., Oyston L. J., Lau M.-T., Towler H., Lin Y. Q. and Neely G. G. 2019. Nerve injury drives a heightened state of vigilance and neuropathic sensitization in Drosophila. Science Advances 5: eaaw4099. doi: 10.1126/sciadv.aaw4099
[4] Crook, R. J., Hanlon, R. T. and Walters, E. T. 2013. Squid have nociceptors that display widespread long-term sensitization and spontaneous activity after bodily injury. Journal of Neuroscience, 33(24), 10021-10026. doi: 10.1523/JNEUROSCI.0646-13.2013
[5] Walters E. T. 2018. Nociceptive biology of molluscs and arthropods: evolutionary clues about functions and mechanisms potentially related to pain. Frontiers in Physiololgy 9: doi: 10.3389/fphys.2018.01049
[6] Garshelis, D. L. 2006. On the allure of noninvasive genetic sampling-putting a face to the name. Ursus 17: 109-123. doi: 10.2192/1537-6176(2006)17[109:OTAONG]2.0.CO;2