CHARLES Sandrine
Laboratory of Biometry - Evolutionary Biology, University Claude Bernard Lyon 1, Villeurbanne, France
Ecotoxicology, Population ecology, Statistical ecology, Theoretical ecology
recommender
Recommendations:
2
Reviews:
0
Recommendations: 2
31 May 2023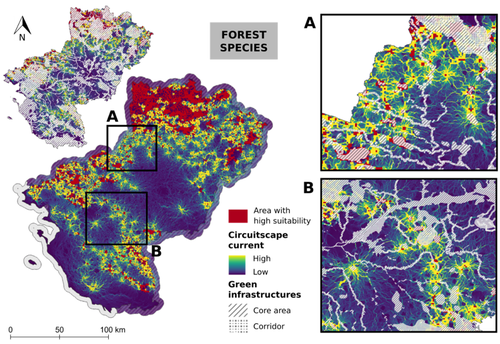 Conservation networks do not match the ecological requirements of amphibians
Amphibians under scrutiny - When human-dominated landscape mosaics are not in full compliance with their ecological requirements
Recommended by Sandrine Charles based on reviews by

Peter Vermeiren

and 1 anonymous reviewer
Among vertebrates, amphibians are one of the most diverse groups with more than 7,000 known species. Amphibians occupy various ecosystems, including forests, wetlands, and freshwater habitats. Amphibians are known to be highly sensitive to changes in their environment, particularly to water quality and habitat degradation, so that monitoring abundance of amphibian populations can provide early warning signs of ecosystem disturbances that may also affect other organisms including humans (Bishop et al., 2012). Accordingly, efforts in habitat preservation and sustainable land and water management are necessary to safeguard amphibian populations.
In this context, Matutini et al. (2023) compared ecological requirements of amphibian species with the quality of agricultural landscape mosaics. Doing so, they identified critical gaps in existing conservation tools that include protected areas, green infrastructures, and inventoried sites. Matutini et al. (2023) focused on nine amphibian species in the Pays-de-la-Loire region where the landscape has been fashioned over the years by human activities. Three of the chosen amphibian species are living in a dense hedgerow mosaic landscape, while five others are more generalists.
Matutini et al. (2023) established multi-species habitat suitability maps, together with their levels of confidence, by combining single species maps with a probabilistic stacking method at 500-m resolution. From these maps, habitats were classified in five categories, from not suitable to highly suitable. Then, the circuit theory was used to map the potential connections between each highly suitable patch at the regional scale. Finally, comparing suitability maps with existing conservation tools, Matutini et al. (2023) were able to assess their coverage and efficiency.
Whatever their species status (endangered or not), Matutini et al. (2023) highlighted some discrepancies between the ecological requirements of amphibians in terms of habitat quality and the conservation tools of the landscape mosaic within which they are evolving. More specifically, Matutini et al. (2023) found that protected areas and inventoried sites covered only a small proportion of highly suitable habitats, while green infrastructures covered around 50% of the potential habitat for amphibian species. Such a lack of coverage and efficiency of protected areas brings to light that geographical sites with amphibian conservation challenges are known but not protected. Regarding the landscape fragmentation, Matutini et al. (2023) found that generalist amphibian species have a more homogeneous distribution of suitable habitats at the regional scale. They also identified two bottlenecks between two areas of suitable habitats, a situation that could prove critical to amphibian movements if amphibians were forced to change habitats to global change.
In conclusion, Matutini et al. (2023) bring convincing arguments in support of land-use species-conservation planning based on a better consideration of human-dominated landscape mosaics in full compliance with ecological requirements of the species that inhabit the regions concerned.
References
Bishop, P.J., Angulo, A., Lewis, J.P., Moore, R.D., Rabb, G.B., Moreno, G., 2012. The Amphibian Extinction Crisis - what will it take to put the action into the Amphibian Conservation Action Plan? Sapiens - Surveys and Perspectives Integrating Environment and Society 5, 1–16. http://journals.openedition.org/sapiens/1406
Matutini, F., Baudry, J., Fortin, M.-J., Pain, G., Pithon, J., 2023. Conservation networks do not match ecological requirements of amphibians. bioRxiv, ver. 3 peer-reviewed and recommended by Peer Community in Ecology. https://doi.org/10.1101/2022.07.18.500425
20 Feb 2023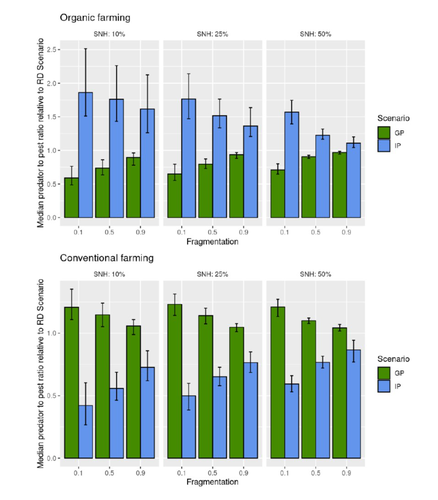 Best organic farming deployment scenarios for pest control: a modeling approach
Towards model-guided organic farming expansion for crop pest management
Recommended by Sandrine Charles based on reviews by

Julia Astegiano

,

Lionel Hertzog

and

Sylvain Bart
Reduce the impact the intensification of human activities has on the environmental is the challenge the humanity faces today, a major challenge that could be compared to climbing Everest without an oxygen supply. Indeed, over-population, pollution, burning fossil fuels, and deforestation are all evils which have had hugely detrimental effects on the environment such as climate change, soil erosion, poor air quality, and scarcity of drinking water to name but a few. In response to the ever-growing consumer demand, agriculture has intensified massively along with a drastic increase in the use of chemicals to ensure an adequate food supply while controlling crop pests. In this context, to address the disastrous effects of the intensive usage of pesticides on both human health and biodiversity, organic farming (OF) revealed as a miracle remedy with multiple benefits. Delattre et al. (2023) present a powerful modelling approach to decipher the crossed effects of the landscape structure and the OF expansion scenario on the pest abundance, both in organic and conventional (CF) crop fields. To this end, the authors ingeniously combined a grid-based landscape model with a spatially explicit predator-pest model. Based on an extensive in silico simulation process, they explore a diversity of landscape structures differing in their amount of semi-natural habitats (SHN) and in their fragmentation, to finally propose a ranking of various expansion scenarios according to the pest control methods in organic farming as well as to the pest and predators' dissemination capacities. In total, 9 landscape structures (3 proportions of SHN x 3 fragmentation levels) were crossed with 3 expansion scenarios (RD = a random distribution of OF and CF in the grid; IP = isolated CF are converted; GP = CF within aggregates are converted), 4 pest management practices, 3 initial densities and 36 biological parameter combinations driving the predator' and pest's population dynamics. This exhaustive exploration of possible combinations of landscape and farming practices highlighted the main drivers of the various OF expansion scenarios, such as increased spillover of predators in isolated OF/CF fields, increased pest management efficiency in large patches of CF and the importance of the distance between OF and CF. In the end, this study brings to light the crucial role that landscape planning plays when OF practices have limited efficiency on pests. It also provides convincing arguments to the fact that converting to organic isolated CF as a priority seems to be the most promising scenario to limit pest densities in CF crops while improving predator to pest ratios (considered as a proxy of conservation biological control) in OF ones without increasing pest densities. Once further completed with model calibration validation based on observed life history traits data for both predators and pests, this work should be very helpful in sustaining policy makers to convince farmers of engaging in organic farming.
REFERENCES
Delattre T, Memah M-M, Franck P, Valsesia P, Lavigne C (2023) Best organic farming deployment scenarios for pest control: a modeling approach. bioRxiv, 2022.05.31.494006, ver. 2 peer-reviewed and recommended by Peer Community in Ecology. https://doi.org/10.1101/2022.05.31.494006