HOLVECK Marie-Jeanne
CEFE, CNRS, Montpellier, France
Behaviour & Ethology, Evolutionary ecology, Human impact, Life history, Maternal effects, Ontogeny, Phenotypic plasticity
recommender
Recommendation:
1
Reviews:
0
Recommendation: 1
15 Jun 2020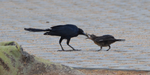 Investigating the rare behavior of male parental care in great-tailed grackles
Studying a rare behavior in a polygamous bird: male parental care in great-tailed grackles
Recommended by Marie-Jeanne Holveck based on reviews by

Matthieu Paquet

and

André C Ferreira
The Great-tailed grackle (Quiscalus mexicanus) is a polygamous bird species that is originating from Central America and rapidly expanding its geographic range toward the North, and in which females were long thought to be the sole nest builders and caretakers of the young. In their pre-registration [1], Folsom and collaborators report repeated occurrences of male parental care and develop hypotheses aiming at better understanding the occurrence and the fitness consequences of this very rarely observed male behavior. They propose to assess if male parental care correlates with the circulating levels of several relevant hormones, increases offspring survival, is a local adaptation, and is a mating strategy, in surveying three populations located in Arizona (middle of the geographic range expansion), California (northern edge of the geographic range), and in Central America (core of the range). This study is part of a 5-year bigger project.
Both reviewers and I strongly value Folsom and collaborators' commitment to program a study, in natural field conditions, of a rare, yet likely evolutionary-important behavior, namely parental care by males of the great-tailed grackle. Yet, we all also recognized that it is a risky endeavor, and as a consequence, we wondered about the authors' ability to reach a sufficient sample size to statistically test (all) hypotheses and predictions with enough confidence (e.g. risk of type I errors, also known as false positives).
Folsom and collaborators acknowledged these limitations in their pre-registration. (i) They made the exploratory nature of their research work clear to readers. (ii) They adapted their analysis plan in running prior power analyses and in focusing on effect sizes (estimates and confidence intervals). (iii) Last and not least, Folsom and collaborators clearly exposed a priori hypotheses, their associated predictions and alternatives, and ranked the latter based on their plausibility according to knowledge in the current and other study systems. Developing theory about male parental care behavior more generally with regard to a polygamous species that is rapidly expanding its geographic range and that is considered not to provide male parental care is without any doubt an added value to this study.
In summary, while this study will likely be insufficient to fully understand male parental care behavior of great-tailed grackles, it is much needed because it will definitely allow rejecting some predictions (e.g., if this behavior is present in all the studied populations, it would be common across range against expectation; finding only one male providing care to an unrelated offspring would lead to reject the prediction that males only care for their own offspring) and thus it will help laying the foundation of future research directions.
I strongly support the pre-registration system and thank all the contributors for producing a fruitful discussion throughout the review process, which in fine improved the clarity and logic of this pre-registration. Given the positive and encouraging reviews, the detailed and thorough answers to all comments by Folsom and collaborators, and their satisfactory and interesting revisions, I am happy to recommend this pre-registration and I look forward to seeing its outcomes.
References
[1] Folsom MA, MacPherson M, Lukas D, McCune KB, Bergeron L, Bond A, Blackwell A, Rowney C, Logan CJ. 2020. Investigating the rare behavior of male parental care in great-tailed grackles. corinalogan.com/Preregistrations/gmalecare.html In principle acceptance by PCI Ecology of the version on 15 June 2020 corinalogan/grackles/blob/master/Files/Preregistrations/gmalecare.Rmd.