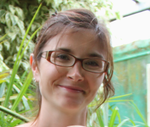 VERCKEN Elodie
Institut Sophia Agrobiotech, INRA, Sophia Antipolis, France
Biological control, Biological invasions, Demography, Dispersal & Migration, Evolutionary ecology, Experimental ecology, Population ecology, Spatial ecology, Metacommunities & Metapopulations
recommender
Recommendation:
1
Reviews:
0
Educational and work
Education 2014: HDR, Université de Nice Sophia-Antipolis 2007: Doctorat d'Ecologie, Université Pierre et Marie Curie (Paris VI) 2003: DEA d'Ecologie, Université Pierre et Marie Curie (Paris VI) Work experience 2013-present: senior researcher at INRA (CR1) 2009-2013: junior researcher at INRA (CR2) 2007-2009: assistant lecturer at Université Paris-Sud XI (ATER)
Recommendation: 1
26 May 2021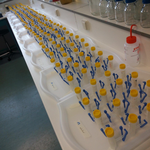 Spatial distribution of local patch extinctions drives recovery dynamics in metacommunities
Recommended by Elodie Vercken based on reviews by

Frederik De Laender

and

David Murray-Stoker
Unity makes strength: clustered extinctions have stronger, longer-lasting effects on metacommunities dynamics
In this article, Saade et al. (2021) investigate how the rate of local extinctions and their spatial distribution affect recolonization dynamics in metacommunities. They use an elegant combination of microcosm experiments with metacommunities of freshwater ciliates and mathematical modelling mirroring their experimental system. Their main findings are (i) that local patch extinctions increase both local (α-) and inter-patch (β-) diversity in a transient way during the recolonization process, (ii) that these effects depend more on the spatial distribution of extinctions (dispersed or clustered) than on their amount, and (iii) that they may spread regionally.
Microcosm experiments are already quite cool just by themselves and have contributed largely to conceptual advances in community ecology (see Fraser and Keddy 1997, or Jessup et al. 2004 for reviews on this topic), but they are here exploited to a whole further level by the fitting of a metapopulation dynamics model. The model allows both to identify the underlying mechanisms most likely to generate the patterns observed (here, competitive interactions) and to assess the robustness of these patterns when considering larger spatial or temporal scales. This release of experimental limitations allows here for the analysis of quantitative metrics of spatial structure, like the distance to the closest patch, which gives an interesting insight into the functional basis of the effect of the spatial distribution of extinctions.
A major strength of this study is that it highlights the importance of considering the spatial structure explicitly. Recent work on ecological networks has shown repeatedly that network structure affects the propagation of pathogens (Badham and Stocker 2010), invaders (Morel-Journel et al. 2019), or perturbation events (Gilarranz et al. 2017). Here, the spatial structure of the metacommunity is a regular grid of patches, but the distribution of extinction events may be either regularly dispersed (i.e., extinct patches are distributed evenly over the grid and are all surrounded by non-extinct patches only) or clustered (all extinct patches are neighbours). This has a direct effect on the neighbourhood of perturbed patches, and because perturbations have mostly local effects, their recovery dynamics are dominated by the composition of this immediate neighbourhood. In landscapes with dispersed extinctions, the neighbourhood of a perturbed patch is not affected by the amount of extinctions, and neither is its recovery time. In contrast, in landscapes with clustered extinctions, the amount of extinctions affects the depth of the perturbed area, which takes longer to recover when it is larger. Interestingly, the spatial distribution of extinctions here is functionally equivalent to differences in connectivity between perturbed and unperturbed patches, which results in contrasted "rescue recovery" and "mixing recovery" regimes as described by Zelnick et al. (2019).

Furthermore, this study focuses on local dynamics of competition and short-term, transient patterns that may have been overlooked by more classical, equilibrium-based approaches of dynamical systems of metacommunities. Indeed, in a metacommunity composed of several competitors, early theoretical work demonstrated that species coexistence is possible at the regional scale only, provided that spatial heterogeneity creates spatial variance in fitness or precludes the superior competitor from accessing certain habitat patches (Skellam 1951, Levins 1969). In the spatially homogeneous experimental system of Saade et al., one of the three ciliate species ends up dominating the community at equilibrium. However, following local, one-time extinction events, the community endures a recolonization process in which differences in dispersal may provide temporary spatial niches for inferior competitors. These transient patterns might prove essential to understand and anticipate the resilience of natural systems that are under increasing pressure, and enduring ever more frequent and intense perturbations (IPBES 2019). Spatial autocorrelation in extinction events was previously identified as a risk for stability and persistence of metacommunities (Ruokolainen 2013, Kahilainen et al. 2018). These new results show that autocorrelated perturbations also have longer-lasting effects, which is likely to increase their overall impact on metacommunity dynamics. As spatial and temporal autocorrelation of temperature and extreme climatic events are expected to increase (Di Cecco and Gouthier 2018), studies that investigate how metacommunities respond to the structure of the distribution of perturbations are more necessary than ever.

References

Badham J, Stocker R (2010) The impact of network clustering and assortativity on epidemic behaviour. Theoretical Population Biology, 77, 71–75. https://doi.org/10.1016/j.tpb.2009.11.003

Di Cecco GJ, Gouhier TC (2018) Increased spatial and temporal autocorrelation of temperature under climate change. Scientific Reports, 8, 14850. https://doi.org/10.1038/s41598-018-33217-0

Fraser LH, Keddy P (1997) The role of experimental microcosms in ecological research. Trends in Ecology & Evolution, 12, 478–481. https://doi.org/10.1016/S0169-5347(97)01220-2

Gilarranz LJ, Rayfield B, Liñán-Cembrano G, Bascompte J, Gonzalez A (2017) Effects of network modularity on the spread of perturbation impact in experimental metapopulations. Science, 357, 199–201. https://doi.org/10.1126/science.aal4122

IPBES (2019) Summary for policymakers of the global assessment report on biodiversity and ecosystem services of the Intergovernmental Science-Policy Platform on Biodiversity and Ecosystem Services. S. Díaz, J. Settele, E. S. Brondízio E.S., H. T. Ngo, M. Guèze, J. Agard, A. Arneth, P. Balvanera, K. A. Brauman, S. H. M. Butchart, K. M. A. Chan, L. A. Garibaldi, K. Ichii, J. Liu, S. M. Subramanian, G. F. Midgley, P. Miloslavich, Z. Molnár, D. Obura, A. Pfaff, S. Polasky, A. Purvis, J. Razzaque, B. Reyers, R. Roy Chowdhury, Y. J. Shin, I. J. Visseren-Hamakers, K. J. Willis, and C. N. Zayas (eds.). IPBES secretariat, Bonn, Germany. 56 pages. https://doi.org/10.5281/zenodo.3553579

Jessup CM, Kassen R, Forde SE, Kerr B, Buckling A, Rainey PB, Bohannan BJM (2004) Big questions, small worlds: microbial model systems in ecology. Trends in Ecology & Evolution, 19, 189–197. https://doi.org/10.1016/j.tree.2004.01.008

Kahilainen A, van Nouhuys S, Schulz T, Saastamoinen M (2018) Metapopulation dynamics in a changing climate: Increasing spatial synchrony in weather conditions drives metapopulation synchrony of a butterfly inhabiting a fragmented landscape. Global Change Biology, 24, 4316–4329. https://doi.org/10.1111/gcb.14280
Levins R (1969) Some Demographic and Genetic Consequences of Environmental Heterogeneity for Biological Control1. Bulletin of the Entomological Society of America, 15, 237–240. https://doi.org/10.1093/besa/15.3.237

Morel-Journel T, Assa CR, Mailleret L, Vercken E (2019) Its all about connections: hubs and invasion in habitat networks. Ecology Letters, 22, 313–321. https://doi.org/10.1111/ele.13192
Ruokolainen L (2013) Spatio-Temporal Environmental Correlation and Population Variability in Simple Metacommunities. PLOS ONE, 8, e72325. https://doi.org/10.1371/journal.pone.0072325
Saade C, Kefi S, Gougat-Barbera C, Rosenbaum B, Fronhofer EA (2021) Spatial distribution of local patch extinctions drives recovery dynamics in metacommunities. bioRxiv, 2020.12.03.409524, ver. 4 peer-reviewed and recommended by Peer Community in Ecology. https://doi.org/10.1101/2020.12.03.409524

Skellam JG (1951) Random Dispersal in Theoretical Populations. Biometrika, 38, 196–218. https://doi.org/10.2307/2332328

Zelnik YR, Arnoldi J-F, Loreau M (2019) The three regimes of spatial recovery. Ecology, 100, e02586. https://doi.org/10.1002/ecy.2586