2019-08-07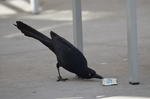 Is behavioral flexibility related to foraging and social behavior in a rapidly expanding species?
Corina Logan, Luisa Bergeron, Carolyn Rowney, Kelsey McCune, Dieter Lukas
http://corinalogan.com/Preregistrations/g_flexforaging.html
Recommended by
Julia Astegiano and Esther Sebastián González based on reviews by

Pizza Ka Yee Chow

and

Esther Sebastián González
Understanding geographic range expansions in human-dominated landscapes: does behavioral flexibility modulate flexibility in foraging and social behavior?
Which biological traits modulate species distribution has historically been and still is one of the core questions of the macroecology and biogeography agenda [1, 2]. As most of the Earth surface has been modified by human activities [3] understanding the strategies that allow species to inhabit human-dominated landscapes will be key to explain species geographic distribution in the Anthropocene. In this vein, Logan et al. [4] are working on a long-term and integrative project aimed to investiga...
More