2019-03-05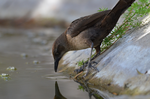 Are the more flexible great-tailed grackles also better at inhibition?
Corina Logan, Kelsey McCune, Zoe Johnson-Ulrich, Luisa Bergeron, Carolyn Rowney, Benjamin Seitz, Aaron Blaisdell, Claudia Wascher
http://corinalogan.com/Preregistrations/g_inhibition.html
Recommended by
Erin Vogel based on reviews by

Simon Gingins

and 2 anonymous reviewers
Adapting to a changing environment: advancing our understanding of the mechanisms that lead to behavioral flexibility
Behavioral flexibility is essential for organisms to adapt to an ever-changing environment. However, the mechanisms that lead to behavioral flexibility and understanding what traits makes a species better able to adapt behavior to new environments has been understudied. Logan and colleagues have proposed to use a series of experiments, using great-tailed grackles as a study species, to test four main hypotheses. These hypotheses are centered around exploring the relationship between behavioral ...
More