2019-10-07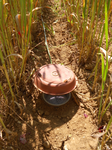 Which pitfall traps and sampling efforts should be used to evaluate the effects of cropping systems on the taxonomic and functional composition of arthropod communities?
Antoine Gardarin and Muriel Valantin-Morison
10.5281/zenodo.3468920
Recommended by
Ignasi Bartomeus based on reviews by

Cécile ALBERT

and

Matthias Foellmer
On the importance of experimental design: pitfall traps and arthropod communities
Despite the increasing refinement of statistical methods, a robust experimental design is still one of the most important cornerstones to answer ecological and evolutionary questions. However, there is a strong trade-off between a perfect design and its feasibility. A common mantra is that more data is always better, but how much is enough is complex to answer, specially when we want to capture the spatial and temporal variability of a given process. Gardarin and Valantin-Morison [1] make an eff...
More