2020-03-06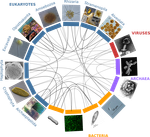 A community perspective on the concept of marine holobionts: current status, challenges, and future directions
Simon M. Dittami, Enrique Arboleda, Jean-Christophe Auguet, Arite Bigalke, Enora Briand, Paco Cárdenas, Ulisse Cardini, Johan Decelle, Aschwin Engelen, Damien Eveillard, Claire M.M. Gachon, Sarah Griffiths, Tilmann Harder, Ehsan Kayal, Elena Kazamia, Francois H. Lallier, Mónica Medina, Ezequiel M. Marzinelli, Teresa Morganti, Laura Núñez Pons, Soizic Pardo, José Pintado Valverde, Mahasweta Saha, Marc-André Selosse, Derek Skillings, Willem Stock, Shinichi Sunagawa, Eve Toulza, Alexey Vorobe...
10.5281/zenodo.3696771
Recommended by
Sophie Arnaud-Haond and Corinne Vacher based on reviews by

Sophie Arnaud-Haond

and

Aurélie Tasiemski
Marine holobiont in the high throughput sequencing era
The concept of holobiont dates back to more than thirty years, it was primarily coined to hypothesize the importance of symbiotic associations to generate significant evolutionary novelties. Quickly adopted to describe the now well-studied system formed by zooxanthella associated corals, this concept expanded much further after the emergence of High-Throughput Sequencing and associated progresses in metabarcoding and metagenomics.
Holobionts – defined as the association between an individua...
More