2020-01-08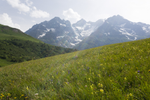 Studies of NH4+ and NO3- uptake ability of subalpine plants and resource-use strategy identified by their functional traits
Legay Nicolas, Grassein Fabrice, Arnoldi Cindy, Segura Raphaël, Laîné Philippe, Lavorel Sandra, Clément Jean-Christophe
10.1101/372235
Recommended by
Sébastien Barot based on reviews by

Vincent Maire

and 1 anonymous reviewer
Nitrate or not nitrate. That is the question
The article by Legay et al. [1] addresses two main issues: the links between belowground and aboveground plant traits and the links between plant strategies (as defined by these traits) and the capacity to absorb nitrate and ammonium. I recommend this work because these are important and current issues. The literature on plant traits is extremely rich and the existence of a leaf economic spectrum linked to a gradient between conservative and acquisitive plants is now extremely well established [...
More
2019-10-07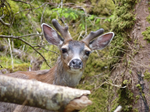 Deer slow down litter decomposition by reducing litter quality in a temperate forest
Simon Chollet, Morgane Maillard, Juliane Schorghuber, Sue Grayston, Jean-Louis Martin
10.1101/690032
Recommended by
Sébastien Barot based on reviews by 2 anonymous reviewers
Disentangling effects of large herbivores on litter decomposition
Aboveground – belowground interactions is a fascinating field that has developed in ecology since about 20 years [1]. This field has been very fruitful as measured by the numerous articles published but also by the particular role it has played in the development of soil ecology. While soil ecology has for a long time developed partially independently from "general ecology" [2], the field of aboveground – belowground interactions has shown that all ecological interactions occurring withi...
More