2019-03-26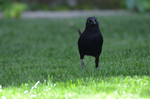 Is behavioral flexibility linked with exploration, but not boldness, persistence, or motor diversity?
Kelsey McCune, Carolyn Rowney, Luisa Bergeron, Corina Logan
http://corinalogan.com/Preregistrations/g_exploration.html
Recommended by
Jeremy Van Cleve based on reviews by 2 anonymous reviewers
Probing behaviors correlated with behavioral flexibility
Behavioral plasticity, which is a subset of phenotypic plasticity, is an important component of foraging, defense against predators, mating, and many other behaviors. More specifically, behavioral flexibility, in this study, captures how quickly individuals adapt to new circumstances. In cases where individuals disperse to new environments, which often occurs in range expansions, behavioral flexibility is likely crucial to the chance that individuals can establish in these environments. Thus, it...
More