2018-10-02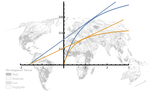 How optimal foragers should respond to habitat changes? On the consequences of habitat conversion.
Vincent Calcagno, Frederic Hamelin, Ludovic Mailleret, Frederic Grognard
10.1101/273557
Recommended by
Francois-Xavier Dechaume-Moncharmont based on reviews by

Frederick Adler

,

Andrew Higginson

and 1 anonymous reviewer
Optimal foraging in a changing world: old questions, new perspectives
Marginal value theorem (MVT) is an archetypal model discussed in every behavioural ecology textbook. Its popularity is largely explained but the fact that it is possible to solve it graphically (at least in its simplest form) with the minimal amount of equations, which is a sensible strategy for an introductory course in behavioural ecology [1]. Apart from this heuristic value, one may be tempted to disregard it as a naive toy model. After a burst of interest in the 70's and the 80's, the once v...
More