2019-01-10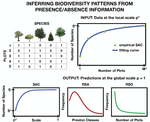 Inferring macro-ecological patterns from local species' occurrences
Anna Tovo, Marco Formentin, Samir Suweis, Samuele Stivanello, Sandro Azaele, Amos Maritan
10.1101/387456
Recommended by
Matthieu Barbier based on reviews by

Kevin Cazelles

and 1 anonymous reviewer
Upscaling the neighborhood: how to get species diversity, abundance and range distributions from local presence/absence data
How do you estimate the biodiversity of a whole community, or the distribution of abundances and ranges of its species, from presence/absence data in scattered samples?
It all starts with the collector's dilemma: if you double the number of samples, you will not get double the number of species, since you will find many of the same common species, and only a few new rare ones.
This non-additivity has prompted many ecologists to study the Species-Area Relationship. A common theoretical appr...
More