2019-05-27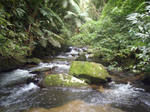 Community size affects the signals of ecological drift and selection on biodiversity
Tadeu Siqueira, Victor S. Saito, Luis M. Bini, Adriano S. Melo, Danielle K. Petsch, Victor L. Landeiro, Kimmo T. Tolonen, Jenny Jyrkänkallio-Mikkola, Janne Soininen, Jani Heino
10.1101/515098
Recommended by
Eric Harvey based on reviews by

Romain Bertrand

and

Kevin Cazelles
Toward an empirical synthesis on the niche versus stochastic debate
As far back as Clements [1] and Gleason [2], the historical schism between deterministic and stochastic perspectives has divided ecologists. Deterministic theories tend to emphasize niche-based processes such as environmental filtering and species interactions as the main drivers of species distribution in nature, while stochastic theories mainly focus on chance colonization, random extinctions and ecological drift [3]. Although the old days when ecologists were fighting fiercely over null model...
More
2019-01-10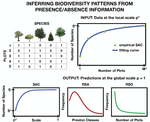 Inferring macro-ecological patterns from local species' occurrences
Anna Tovo, Marco Formentin, Samir Suweis, Samuele Stivanello, Sandro Azaele, Amos Maritan
10.1101/387456
Recommended by
Matthieu Barbier based on reviews by

Kevin Cazelles

and 1 anonymous reviewer
Upscaling the neighborhood: how to get species diversity, abundance and range distributions from local presence/absence data
How do you estimate the biodiversity of a whole community, or the distribution of abundances and ranges of its species, from presence/absence data in scattered samples?
It all starts with the collector's dilemma: if you double the number of samples, you will not get double the number of species, since you will find many of the same common species, and only a few new rare ones.
This non-additivity has prompted many ecologists to study the Species-Area Relationship. A common theoretical appr...
More